Sandi Licking, Client Solutions Training Manager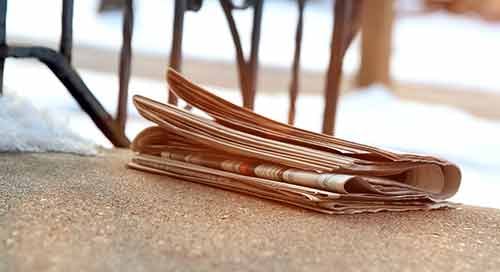 In our Circulation 101 columns, we explore some of the foundational knowledge needed to understand and analyze print and digital circulation. Whether you're new to circulation and AAM and need a cheat sheet or you're a veteran looking for a quick refresh, we've got something for you. In this column, we'll explain nonpaid newspaper circulation categories.
Qualified Nonpaid Circulation – Home Delivery
This category of circulation has two subcategories that help explain how the circulation is targeted to the receiving audience.
Home Delivery Address Specific – This subcategory of qualified nonpaid circulation home delivery represents a publication's free home delivery sampling program. The program following requirements:
Delivered to a specific address
Only include residential units
Only one copy per residential unit
If the service is more than a day, the recipient is notified of the term and frequency of the service and provided the opportunity to opt out
Editorial content is not required, but must be a vehicle for delivering freestanding inserts
Print or digital service are both allowed but digital copies will only qualify if they are requested and accessed
Home Delivery Market Coverage– This subcategory also represents one of news media's sampling programs. The program requirements:
Not addressed specific, but a saturation of a particular area
Only print editions qualify
Only includes residential units
Only one copy per residential unit
Editorial content is not required, but must be a vehicle for delivering freestanding inserts
Qualified Nonpaid Circulation – Public Access (Retail/Business, Dist. to Apts., and Racks & Other Distribution)
Retail/Business – These copies are requested by public locations such as doctors' offices, restaurants or hospitals for use by their patrons. Copies are for reoccurring delivery and do not apply to one-time distribution or events.
Distribution to Apartments – These are copies delivered to residential apartments and made easily accessible to residents.
Racks and Other Distribution – This category includes free copies of the newspaper distributed via racks at nonresidential locations such as bus stops, grocery stores, gas stations, etc.
Qualified Nonpaid Circulation – Other Qualified (Employee/Independent Contractor, Education & University Copies)
Educational copies – These are copies served to students in a classroom with the following requirements:
The classroom or school must be accredited
The teacher must request the copies and include the desired frequency and time period of delivery as well as the number of students in the classroom
The copies must be used in the classroom
The news media organization must collect affidavits annually
Only one print or digital edition may be counted per student
University Copies – These are print or digital copies made available for pickup and use by university and college students. Eligibility requirements include:
A request from the university or college to receive the copies
Copies are made available to registered students and faculty
For print copies, the distribution must be in a limited-access area of the campus used only by students. Additionally, the quantity claimed must be the net copies consumed for each issue.
For digital copies, students and faculty must register, activate or download the application to start the subscription. Only the copies accessed qualify and a unique identifier for each user must be made available for the audit.
Employee/Independent Contractor – These copies are served to current or retired employees, independent contractors or carriers, and correspondents who contribute at least one article per month. If the news media organization has multiple titles, only one copy across the portfolio may be claimed for the employee program.
View the full list of news media circulation terms and definitions in our support center