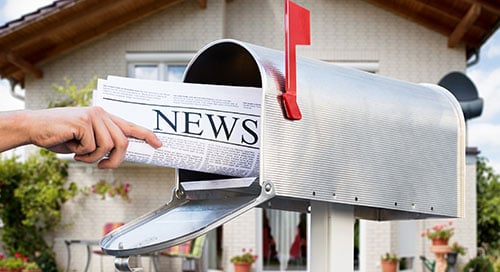 A key element of AAM's recent initiative to modernize audits and simplify reports was finding ways to save publishers time preparing for and executing the audit. Nonpaid circulation audits were identified as an area in need of an overhaul. The new process saves publishers time by implementing new auditing approaches.
Historically, nonpaid circulation audits were conducted in the field. Auditors traveled to the location and attempted to observe newspaper delivery in person. If auditors did not see the paper delivered, publisher staff had to secure affidavits from the consumer either by knocking on their door or making telephone calls. This was a time-consuming task and made some publishers reluctant to have their nonpaid circulation products audited by AAM.
Now AAM is taking a different approach by discontinuing in-field testing and focusing on internal documentation that allows us to reconcile the number of copies printed with distribution records and trace the payment to the delivery agent. Auditors might request proof of invoices and payment, reconcile the draw to the delivery manifest, and interview delivery agents. This new process will allow auditors to conduct the bulk of the work remotely and free up publisher staff for other tasks.
It's an approach that was well-received by both publisher and buyer members of the media community. You can read more about how McClatchy's Dan Schaub and NSA Media's Steve Mueller feel about the changes to nonpaid circulation audits in their point-of-view articles.
Learn more about by the news media simplification initiative by visiting our resources hub.