Kevin Rehberg, Vice President, Client Development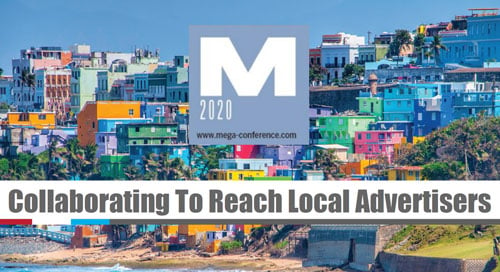 Last year, more money was spent in digital advertising than all other mediums combined. Despite this milestone, publishers everywhere compete for their share of ad revenue in a crowded programmatic landscape.
With more media investment leaving local markets for walled gardens, one group decided to act. By pooling their talents and resources, media companies in Puerto Rico created a unique way to reach advertisers with their value message. At Mega-Conference I shared details of this multi-medium success story and described how this solution can be duplicated in any market. Here are highlights from that presentation and insights from two of the market's participants, Aisha Burgos and Augusto Romano of Digo Hispanic Media.
The Challenge
As digital advertising continues to grow, local publishers find it challenging to capture their share of this revenue. In Puerto Rico, local media commissioned a study to better understand the trends, demographics and digital ad spend within their market. This research found that $7 out of every $10 spent in digital advertising leaves Puerto Rico. A similar shift is occurring in other markets and has serious implications for everyone. When publishers lose out on ad revenue, communities miss out on additional investment in local journalism and advertisers risk wasting money on platforms that don't provide transparency or quality audiences. For example, digital ad fraud occurs when ads are sold programmatically on fake sites that are never viewed by real humans. As a result, advertisers waste their media spend on ads that never reach their target audience.
Puerto Rican media realized they had something valuable to offer: quality content that engages real audiences in a brand safe, transparent environment. They also realized that if they worked together, they might have a better chance of effectively conveying this message to advertisers.
The Solution
After meeting to discuss their shared goals, nine Puerto Rican media companies decided to work together to create an event where they could share their message with advertisers in an impactful way. The result was the Local Media Summit—a one day, in-person event to showcase the value of local media through research and data. These multi-media companies leveraged resources such as event planning, marketing and relationships with vendors and clients. The event organizers:
Rented a local movie theater, which provided a scalable venue that met their technical needs
Invited local celebrities to generate buzz and attract attendees
Included presentations and research from outside organizations on local market trends and the harmful effects of digital ad fraud
"The research was the focus of the presentation," said Aisha Burgos, SVP of sales and marketing, Digo Hispanic Media. "We felt it was important to have the presenters of the data and research deliver our message, which made a stronger impact than if it came from us."
The Results
Nearly 300 advertiser and agency representatives attended the event. The presentation of data and research from experts outside the market made a compelling story. By focusing on the overall value of the market, all media benefitted and opened the door for individual conversations with potential clients. By leveraging their event planning capabilities, the publishers were able to share their value message with advertisers in a cost-effective, engaging format.
"The results of the event were very positive," Burgos said. "About 70% of our attendees came from agencies and 30% were direct clients. We also split costs for the event, which was another benefit of collaborating."
The collaboration also created additional opportunities to work together, such as the creation of a publisher-owned premium ad network. The group realized that their websites were attracting visitors from the U.S. who were interested in Puerto Rican news, which would provide value to advertisers who wanted to reach this demographic via a quality network.
"When you present media buyers with an opportunity to reach a broad audience in a brand safe environment, it's a win for advertisers and publishers," said Augusto Romano, CEO, Digo Hispanic Media.
Romano added that premium networks are becoming more important to media buyers. "On premium sites, brand safety and transparency are practically a given," Romano said. "The idea of a premium ad network is gaining a lot of traction with advertisers."
Apply This Solution to Your Market
The solution created by Puerto Rican media can be applied to other markets. By leveraging resources and including market and audience data from sources like AAM, Scarborough or Borrell Associates, publishers can share their value story with advertisers and back it up with evidence. Publishers can also get credit for their quality ad platforms by having an AAM Digital Publisher Audit, which helps publishers demonstrate that they are doing everything possible to provide a quality platform for advertising investment.
If you'd like to learn more about creating your own event, please contact me. Here's a brief recap of the Mega-Conference presentation: