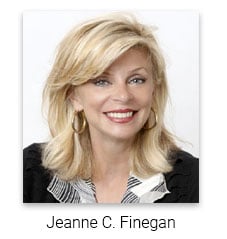 Jeanne Finegan, chief media officer at HF Media, the media arm of Heffler Claims Group, has worked in the legal arena for more than 30 years, implementing integrated communications campaigns for cases such as the Yahoo! Data Breach, the DeepWater Horizon (BP Oil Spill), PG&E's restructuring outreach for the Northern California Fire Claim Victims and the Takata Airbag recall. Here she shares her views on how audited media improves campaign outcomes, steps the industry can take to promote greater accountability and why she recently joined AAM's board of directors.
AAM: Why is audited media an important part of your campaigns?
Jeanne Finegan: Our job is to inform consumers of their rights. It may mean they have an unsafe product or have had their personally identifiable information compromised. We count on being able to select the right media to reach the right audiences and convert this media into an actionable result. Frequently, I am called to testify concerning outreach efforts and provide results from those efforts. I must be exact and correct with my reports. Accuracy, validation and transparency are very big deal in the legal world.
AAM: Why did you join the AAM board?
Jeanne Finegan: I wanted to be part of an organization that is a thought leader and makes a difference in our industry. That difference starts with promoting transparency throughout the entire supply chain. For buyers and planners, this means that they have consistent, audited data across media channels. Through AAM's partnership with sources such as Gfk MRI and Cision, I am assured that audience delivery insights across multichannel media/PR campaigns are consistent and accurate.
AAM: How concerned are you about the rise of digital ad fraud?
Jeanne Finegan: I am extremely concerned. Digital ad fraud is constantly evolving and it's up to us keep up with it and take proactive measures to mitigate it. Those who say we are winning the war on fraud are adopting a bit of a Pollyanna approach. Fraud and incentivized performance in campaigns are far too common and if it can be monetized, fraudsters will just keep morphing into new areas. We can't be complacent.
My company started focusing on ad fraud about four years ago. I was dissatisfied with the lack of transparent reporting from our online networks. We couldn't see where our ads were being served and we were not getting the results we wanted from the campaigns. I decided to bring our digital in-house. The key was to look in layers for bots and then validate humans on the other side of the screens. We use whitelists and we don't stop with one solution. We look at this from several angles using tech and physically looking at log-level data. After we did that, our campaign outcomes improved.
AAM: How do you define a quality publisher?
Jeanne Finegan: Quality environments, accountability, and human engagement are valued over clicks. There has been a long-established narrative in the digital ecosystem that more is better. My take is the smart marketers will increasingly value quality over quantity. When you look at campaign data in the context of quality and resulting conversions, you quickly see that if you are buying quality publishers, you have better outcomes.
Digital ad fraud is constantly evolving and it's up to us keep up with it and take proactive measures to mitigate it.

Jeanne Finegan, HF Media
AAM: What does the industry need to do to bring more accountability to media buying?
Jeanne Finegan: We need to shine a bright light on media buying practices. Proof is critical. Clients need to demand proof of where ads appeared and proof that the campaign resulted in specific valued outcomes and then pay for performance. If a client requires campaigns that are optimized for results relevant to their business, then transparency is automatically integrated into the media supply chain. A campaign filled with counterfeit ad impressions not seen by humans doesn't move the dial. When you incentivize to deliver real results, you automatically build in transparency.
AAM: What role do you see AAM playing in the future of digital media?
Jeanne Finegan: A huge role. Thanks to the AAM Digital Publisher Audit, buyers will now be able to differentiate quality sites, analyze all types of traffic and be better armed to combat IVT. Buyers can clearly see the difference between publishers who are AAM audited and those who are sourcing traffic or running fraudulent sites. AAM digital publisher audits will also allow buyers to create white lists of audited digital publishers that have legitimate sites with validated human traffic. This type of validation creates a win on the publisher side and on the buy side.