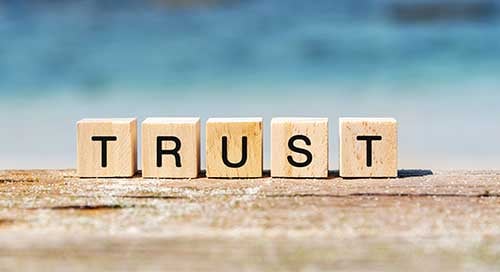 AAM is proud to participate in Trust.txt, an industry initiative developed by non-profit organization JournalList to help publishers stand out as members of trusted industry associations and organizations. All AAM clients are now also members of JournalList, an organization that promotes news media transparency. These FAQs give an overview of the program, how it works and the benefits for AAM-audited publishers.
What is Trust.txt?
Trust.txt is a framework that establishes relationships between publishers and the trusted industry organizations and associations they belong to. Being a member of an industry organization is one signal of trust that sets quality publishers apart from other websites.
Trust.txt, a simple text file that publishers add to their websites, acts as a machine-readable map to help advertisers, tech platforms and search engines make connections between legitimate publishers and respected industry organizations.
The goal is to elevate credible news outlets on all major digital platforms and help those publishers stand out from others in the market. The more organizations and publishers that participate, the greater the impact of the program on the industry.
How does it work?
The process is incredibly simple. All AAM publisher clients are listed on AAM's Trust.txt file that resides on its website. JournalList has created complimentary Trust.txt files for all AAM-audited publishers that list their industry memberships, owned domains and social media accounts.
All publishers need to do is upload the file to their website's root directory, the same place where the robots.txt or ads.txt files reside. Here's an example of Editor & Publisher's Trust.txt file. When both organizations have a published Trust.txt file, search engines can recognize that there is a legitimate connection between the two.
How do I access my Trust.txt file?
Please contact JournalList's Mark Stencel to access your complimentary Trust.txt files and instructions.
Why is AAM participating?
AAM is offering this benefit to publisher clients as another way to help them stand out for their commitment to quality and transparency. We partnered with JournalList because we support organizations that develop new solutions to elevate transparency in the industry.
How is Trust.txt used in the industry?
Industry associations and individual publishers participate in Trust.txt to create another signal of trust for the good work publishers do. As a member of JournalList, AAM's Trust.txt file lists all AAM publishers. The goal of the program is to help advertisers, ad tech platforms and search engines to easily identify quality publishers by making connections between trusted media and industry organizations.
Why should publishers participate?
By participating in Trust.txt, publishers are signaling to advertisers and tech platforms that they are legitimate media providers committed to quality, journalistic integrity and adherence to industry standards. It's an easy way for publishers to stand up for their quality and stand out in a crowded digital market.
What are the benefits for publishers?
Trust.txt is a simple way for publishers to signal their legitimacy and stand out from others in the digital ecosystem. Since publishers' websites and social media accounts can be a target for fraud, Trust.txt helps publishers fight back by claiming their digital properties and industry memberships to establish legitimacy.
Txt files, like Trust.txt, are common ways for websites to provide information to search engines in a format that is machine-readable and easy to process. As the number of organizations and publishers that participate in Trust.txt grows, ad tech platforms and search engines can add Trust.txt files to their algorithms to identify quality media from the millions of other websites on the internet.