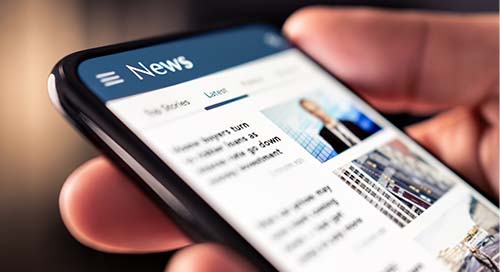 In 2021, AAM worked with publishers and buyers on AAM's news media committees to revise the rules for digital reporting to better align with the promotions and offerings publishers provide their readers. Since we often receive questions about how digital editions are qualified and reported, we thought it would be helpful to give an overview of the basics.
Here we look at the types of digital editions reported, how these editions are sold as subscriptions and when digital editions are counted as circulation units.
What are the types of digital editions?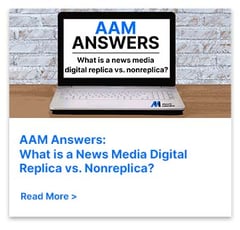 Publishers can report the type of digital product offered so that advertisers have a better understanding of how readers see their ads. For AAM reports, digital products fall into one of two categories: digital replica and digital nonreplica. The difference between these categories is the format in which the content is delivered and how closely the digital edition resembles the print edition.
Digital replica: A digital edition that is consistent in character and editorial content with the print edition and is typically delivered as a PDF or formatted for an e-reader. It may include additive or updated editorial content but needs to contain the ROP (run of press) advertising as scheduled in the print edition.
Digital nonreplica: A digital edition that is similar to the print edition but may contain different content and ads. Content accessed via a restricted access website is one example of digital nonreplica.
How are these digital editions sold as subscriptions?
News media companies sell digital-only subscriptions or combine digital subscriptions with print. Here are a few examples:
Bundled print and digital subscription: Print and digital editions are sold together at the same frequency (e.g. print and digital editions offered seven days a week).
Hybrid print and digital subscription: Print and digital editions are sold together at different frequencies (e.g. a daily digital edition and a print edition delivered three days a week).
Paid digital only subscription: Digital content that the subscriber accesses through a password-protected website.
What is counted and when?
Depending on the subscription program, publishers have options for reporting digital replica and nonreplica editions. Here are a few ways print and digital editions are commonly counted:
For bundled and hybrid subscriptions:
If the subscriber receives a daily print edition, this counts as one print circulation unit.
If the subscriber also accesses the digital edition, it could be counted as a paid digital circulation unit for that day regardless of how many times the subscriber accesses it.
If the subscriber is part of a subscription plan that does not offer a daily print edition, the publisher may count the digital edition on days when a print edition is not delivered, regardless of whether the subscriber accesses it.
For digital-only subscriptions:
Qualification is based on payment, not access.
Circulation can be counted either as digital replica or nonreplica.
Only one digital unit can be claimed per day during the subscription term, regardless of the number of times the consumer accesses the digital edition or across multiple digital platforms during the day.
For more information about digital news media reporting, visit AAM's support center.