Sandi Licking, Client Solutions Training Manger


AAM's magazine Snapshot report is published twice a year covering the six-months ending Dec. 31 and the six-months ending Jun. 30. Release dates are typically in mid-February and mid-August, although you can find the latest listing of the release dates on AAM's website.
The Snapshot report provides an overview of a magazine's circulation before the release of the more detailed publisher's statements. It's popular with AAM clients because it includes all magazines that filed by deadline in one file and it is formatted and available for easy download in PDF or analysis in Excel.
Here are five things you can learn in the magazine Snapshot report:
1. Issues Served and Cover Price
The first few columns highlight the number of issues and average single-copy price per publication.

2. Subscriptions and Single-Copy Sales
The following columns include the magazine's total subscriptions and break outs by paid and verified subscriptions as well as single-copy sales. You can learn more about the different categories of circulation in this article.
3. Total Circulation
Snapshot also features various total circulation data including total paid and verified circulation, which is the sum of the subscription columns and single-copy sales we reviewed previously. Total analyzed nonpaid bulk is circulation delivered to designated locations for redistribution to recipients unknown to the publisher. And the final total column adds all the print and digital circulation categories together: subscriptions, single-copy sales and analyzed nonpaid bulk.

4. Comparable Data to the Previous Year
The next few columns offer historical data based on the same period for the previous year.

5. Rate Base
The final column in the report shows the magazine's rate base, if it claims one. This allows you to very easily analyze which magazines made rate base for the current period.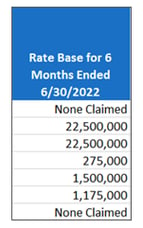 All the information included in the Snapshot report is preliminary and subject to audit. Magazines must file their data with AAM by a specified date to be included in the report. Magazines that don't file by the deadline may be included in the supplemental report. Those magazines that miss the deadlines are notated in the reports.
If you would like to learn more about the magazine Snapshot report or schedule a customized training session, please contact me by email or at 224-366-6342.