AAM-verified data is sought by media buyers as a trusted source of circulation and audience information and is often the first data source buyers seek to make informed media decisions.
Once a publisher files data with AAM, its journey is just beginning. In addition to AAM's database, AAM publisher data is distributed through several industry partners and channels that reach advertisers, media planners and buyers, media professionals, researchers and public relations experts. With the recent merger of AAM and BPA Worldwide, buyers have access to even more publisher data.
Here's an overview of the ways AAM publisher data reaches the marketplace, who uses this data and why users value data verified by an independent third party.
1. AAM's Media Intelligence Center
After a publisher files data, the first stop on the data journey is AAM's Media Intelligence Center. This searchable database now includes nearly 1,300 AAM and BPA publishers across North America. All AAM clients receive complimentary access to this database.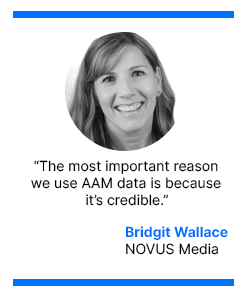 The Media Intelligence Center is also regularly accessed by hundreds of advertisers and agencies seeking credible media data to help with media planning.
Bridgit Wallace, vice president of business development, NOVUS Media, said her company uses AAM data to gain a better understanding of news media available by market. She also relies on AAM data because it's been verified by a trusted third party.
"The most important reason we use AAM data is because it's credible," Wallace said. "If it's validated by AAM, then we know the partner has met the requirements for accuracy as part of the audit."
The Media Intelligence Center includes several useful tools and reports including semiannual statements, analyzer tools and ZIP code heatmaps. This data can be downloaded into easy-to-use Excel spreadsheets for competitive analyses and media planning.
CARDonline is a media planning database from Canadian publishing company Brunico that includes circulation, rates and contact details for hundreds of Canadian media companies.
Darlene Mooney, CARDonline's data administrator, said she relies on AAM's database because it provides current data for so many publishers in one easy-to-access resource.
"We regularly use AAM's database to download data for many of our partners and upload it directly to our database," Mooney said. "It saves us time without having to contact each publisher for current numbers."
2. AAM Brand View
The next stop for publisher data are AAM Brand View profiles. These profiles — available in the Media Intelligence Center and through sharable links — can include custom text, images and company information alongside AAM-verified data to enable publishers' sales teams to share their complete brand stories in a visual way.
3. Direct Data Feeds
Beyond AAM's channels, publisher data is distributed directly to several media buying organizations, including NSA Media, Novus/Agenti Media and Retail Print Media, to integrate into their planning systems.
Ray Young, president of Retail Print Media, said his company receives AAM data via a quarterly feed that is uploaded directly into his company's proprietary software that is used to plan media for national and regional retailers. Young said he favors AAM-audited data because it's reliable, consistent and has a high level of quality his clients have come to expect.
"It's very important to us to have AAM-verified data," Young said. "Our clients have greater confidence in our recommendations when they know that a trusted third-party has done the vetting. This is critical to our business, and it adds integrity to the entire process."
4. Media Intelligence and Research
AAM also works with several industry organizations including Kantar Media, Nielsen, Cision and SRDS that provide data to help buyers and other researchers better understand consumer behavior, media consumption, market demographics and readership trends.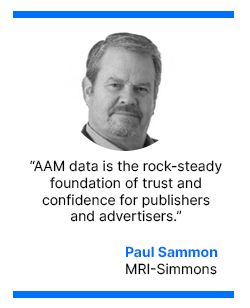 Paul Sammon, vice president of media sales for MRI-Simmons, performs research and marketing consulting for small- to medium-sized and independent magazine media brands. He relies on AAM data to offer insights to his clients about their markets.
"I've worked with AAM data for a long time – first, for media planning, next in advertising sales, then for research," Sammon said. "AAM data is the rock-steady foundation of trust and confidence for publishers and advertisers. AAM also ensures that the most relevant metrics are always at the forefront of their work for the industry."
ProQuest Statistical Insight provides statistics and data for students at colleges and universities. Cathy Johnson, a senior manager at Clarivate, the company that acquired ProQuest in 2021, said AAM data is included in the product to help users study media trends related to business, political science, public policy, advertising, and journalism.
"The level of detail in AAM reports is of special value," Johnson said. "A researcher might be interested in information such as audience or circulation of a specific publication or to understand the various aspects of the publishing industry in general. AAM data serves to accurately answer questions about the reach of a publication or how circulation has changed over time."
5. Industry Reports and Partnerships
AAM also releases several industry reports each year and works with industry partners dedicated to shining a spotlight on audited publishers.
All AAM-audited publishers are included on the International Federation of Audit Bureaux of Certification (IFABC)'s Certified Media List. This list includes nearly 15,000 independently verified media properties from 22 participating countries and is available for download in Excel.
The AAM Audited Domain List features publishers that have completed the AAM Digital Publisher Audit. These publishers are also included in the IAB Tech Lab Compliance Registry, a free online resource listing companies that have successfully completed select industry compliance programs.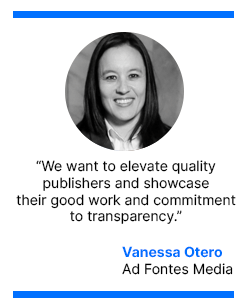 The quarterly Magazine Media 360° report gives a comprehensive view of magazine audiences across multiple platforms and formats — print and digital editions, desktop and mobile websites, and video — to provide a 360° picture of magazine media reach.
AAM also partnered with Ad Fontes Media to create an interactive chart listing political media bias and reliability ratings for AAM-audited publishers, which helps advertisers and readers determine whether news sources are creating reliable, impartial content.
"AAM publishers are very reliable and value quality," said Vanessa Otero, founder and CEO of Ad Fontes Media. "When people say they don't trust media, they lump quality news sources with those that create questionable content. We want to elevate quality publishers and showcase their good work and commitment to transparency."
Another benefit for AAM-audited publishers is a free membership in JournalList, which developed the Trust.txt initiative to help advertisers and ad tech make connections between publishers and their memberships in industry organizations. All AAM publishers are included on AAM's Trust.txt file and can receive their own custom file to upload to their website to maximize the impact of their participation.
Did you know that all AAM clients receive complimentary access to AAM's Media Intelligence Center? For access, complete this quick form.