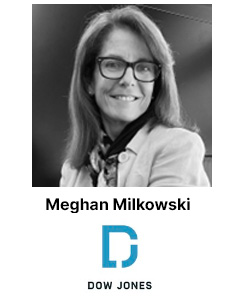 Meghan Milkowski, senior vice president and general manager of the Dow Jones Print Group, oversees the pre-press, manufacturing, distribution, and commercial and business operations for The Wall Street Journal, Barron's and other Dow Jones print products. She is a longtime print and digital media executive with roles at The Hill, Prometheus Global Media and Time Magazine and was recently elected to the AAM board of directors representing publishers.
We sat down with Meghan to learn more about her role at Dow Jones, how the company has adapted to global challenges and why she joined the AAM board.
AAM: What is your current focus?
Meghan Milkowski: We've been looking at our long-term print strategy to gain a better understanding of our processes and find ways to become more efficient. Our publications are trenched in tradition, but with all the changes taking place in the industry, we need to be as flexible as possible.
AAM: How has Dow Jones adapted to global challenges?
Meghan Milkowski: During the pandemic we saw an unprecedented demand for trusted journalism. It wasn't just about answering questions, but also mapping out the ripple effects in the market, the economy and culture, and digging deeper into what was happening during these unprecedented times. We shifted to a more digital platform and environment for our journalism and events. We also took down our paywall for articles with critical information related to the pandemic and used paid media to maximize our content's reach. We understand the crucial role our brands play in informing the public and providing them with reliable news. We strive to be nimble to meet our audiences' need for accurate, trusted information.
AAM: How do you develop audiences for your various brand channels?
Meghan Milkowski: We try to make our content available to as many people as possible, wherever they are looking for information for critical decisions. We continue to invest in innovative storytelling by creating content for platforms such as YouTube, Snapchat and TikTok. We've even developed a docuseries in partnership with Netflix. We believe in distributing content where our audiences are.
AAM: What role do AAM audits play in your business?
Meghan Milkowski: We use several data sources to help us with projections, forecasts and planning, but AAM data is the basis for almost every conversation we have about circulation. Those are the numbers we discuss with advertisers.
AAM: Why did you join the AAM board?
Meghan Milkowski: I've worked with AAM for decades, since I started at Time Magazine, and I've seen many changes in the industry over the years. I love to learn and thought joining the AAM board would be an opportunity to gain a better understanding of what's happening in media and to influence decisions that impact the industry.
AAM: What excites you about media?
Meghan Milkowski: Everything. I've been a news junkie since I started watching the local TV news with my grandmother. I read The Wall Street Journal and Time Magazine in college, as well as my local newspaper, the Asbury Park Press. It has been my lifelong dream to work in journalism.
AAM: What is something you're looking forward to in 2023?
Meghan Milkowski: I'm excited to see my new executive directors take the bull by the horns and show me what they've got. They're talented people with great ideas. I'm looking forward to watching them try new things and grow into their new roles.
Get to know Meghan
What's your favorite way to unwind?
A nice, long bike ride. I'm a world-class triathlete. Cycling is my passion.
Early bird or night owl?
I used to be a night owl, but now I often wake up at 4:30 a.m. to train before the workday begins.
Favorite travel destination?
Paris by far, but I've only been there once. My second favorite destination is Vermont. I'm there all the time.
What is one item you couldn't live without?
My first reaction was to say my bike, but I'm not sure there's anything that I couldn't live without.