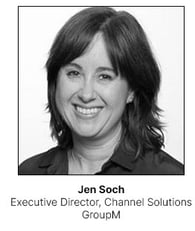 Jen Soch is GroupM's executive director of channel solutions including direct response, audio and local video, advanced TV and publishing. This year she joined AAM's board of directors representing agencies. We recently chatted with Jen to learn more about her role at GroupM, how her team came together during the pandemic and why she joined the AAM board.
AAM: How has your business changed since the pandemic began?
Jen Soch: We are better coordinated now than we were before the pandemic. COVID forced us to develop a good cadence internally and create a more active dialogue among our team leaders. Not only have we become a more cohesive group, but we now look at the marketplace as a whole rather than individual units.
AAM: What is something your team has accomplished that made you proud?
Jen Soch: We're doing a good job in the audio space and defining the fact that it's a gray area. A lot of people are interested in podcasts, streaming and satellite radio, and terrestrial radio. We're working together to look at it as one marketplace rather than talking about these channels in segments.
AAM: What steps do you take to invest in quality media and increase supply chain transparency?
Jen Soch: We buy mostly self-service campaigns directly through specific DSPs. We feel these buys help us gain greater transparency. We also use brand safety and viewability vendors, which have made an impact. We are very involved with the Media Rating Council to bring greater transparency to the marketplace.
AAM: Why did you join the AAM board?
Jen Soch: I wanted to learn more about how AAM brings solutions to the industry and how we can collaborate to find new ways to connect with publishers.
Get to Know Jen
What do you like best about your career?
Teaching and education. I've been involved in a lot of different sides of the industry: on the publisher side for The Guardian and the client side in the tech world. I keep coming back to the agency side. I love to work with people who are just getting started in the industry and who are excited about learning more about it.
What is your favorite travel destination?
I lived in Vermont during COVID and I am there most weekends in the winter. My kids are on the U.S. Junior Ski Team, so they keep me very busy.
What is the favorite part of your morning routine?
My kids are still young enough for hugs and early morning chats, so having those are my favorite part of every morning.
If you could have one superpower, what would it be?
I would love to be able to duplicate myself so that I could be in more than one place at a time.