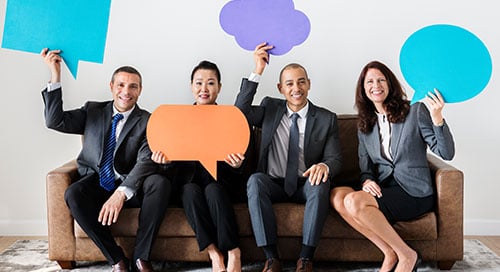 Whether you're selling ads in print or online, there's a foundational cornerstone for any transaction with advertisers: trust.
Independent third-party audits are critical to achieving that trust. When you engage in an AAM audit, you demonstrate your commitment to providing accurate, transparent data. AAM helps publishers stand out by providing advertisers with data that meets the highest industry standards.
What points should you share with advertisers about your audit? Here are four suggestions along with some commentary from AAM's clients about how they use AAM to buy and sell media:
"My Audit Provides the Highest Level of Assurance"
An independent third-party AAM audit assures advertisers that your data is vetted, reviewed and meets industry standards.
When we're putting together a strategic publishing recommendation, we consider titles that are audited first. When a publication is audited, we have proof of circulation quality.

– Brenda White, EVP/Group Director, Starcom
"We've Partnered with an Industry Leader"
AAM is the recognized leader in print and digital media verification. Media and marketing industry leaders come together to set standards that are the foundation for transactions between buyers and sellers. Because of our strong adherence to these standards, AAM is the source for verified data preferred by many local and national advertisers.
Data comes up all the time in our conversations with advertisers. They want to make sure they're reaching the right audience, and they need to be able to trust the numbers we give them. If any questions arise, we want to make sure that we can show them data that has been audited by a trusted third party.

– Ian Haisley, VP of Marketing, Chicago Sun-Times
"We Make It Easy for Media Buyers to Access Our Information"
Hundreds of media buyers regularly search AAM's Media Intelligence Center to find verified data from trusted publishers. Having data in a standard format that is easy to download and use streamlines the process.
AAM's Media Intelligence Center makes it easy for us to find the data we need quickly and download it into a format that we can incorporate directly into our database. That easy access, coupled with the integrity of AAM-verified data, are the reasons why we partner with AAM.

– Matt Spahn, CEO and Founder, planitretail
If there are questions or we're looking for something specific, we'll go to the Media Intelligence Center to dig deeper. It becomes a first stop for knowledge and then we continue on our path, whether that's asking the publisher for clarification or validating through our own system.

- Bridgit Wallace, Vice President of Media Investment, Novus Media, Inc.
"We Provide Consistent Audited Data Across Multiple Platforms"
If you participate in both print and digital audits, you are providing advertisers with consistent, verified data across platforms. This gives advertisers greater insight into your total brand portfolio and increases assurance for each advertising channel.
The biggest request we're seeing from advertisers in RFPs is engagement. When they're deciding to advertise on our website, they're looking at the engagement of our audience and for topics they can align with. It's the same thread across all platforms — digital, print and events. They want to align with the content that speaks to their desired audience and audiences that Texas Monthly easily captures.

- Robert Davila, Vice President of Audience Development and Research, Texas Monthly
To learn more about how to talk about your audit, set up a free, one-on-one training session.