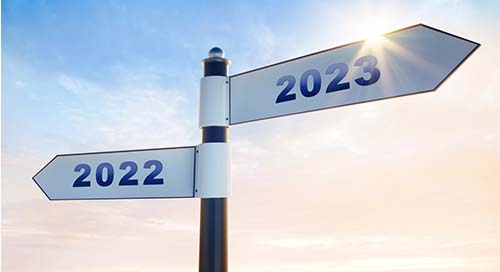 2022 was a year of ups and downs for publishers who saw increases in digital subscriptions, innovative programs and work flexibility amid rising production costs, distribution challenges and reduced resources. As the year ends, we surveyed AAM publisher clients to learn more about their experiences in 2022 and what they hope to accomplish in the year ahead. Thirty AAM-audited publishers responded. Here's what they had to say.
The Positives
When asked about positive trends in 2022, 67% said they saw an increase in digital subscriptions and 40% responded that they saw increased website traffic.
Innovations in subscriptions and advertising were also on the rise. 37% reported greater creativity in attracting new readers and 33% had more creative offerings for advertisers.
The Challenges
When asked about challenges, 80% of respondents said they experienced rising production costs this year, reflecting a global trend.
63% also saw a decrease in print subscriptions, while 53% experienced distribution challenges.
"In 2023, we want to reduce print costs and distribution days without losing subscribers."
A New Way to Work
When asked if their companies have returned to the office at pre-pandemic levels, 82% responded they are either working in a hybrid environment or working remotely most of the time.
Revenue Sources
Looking at the year ahead, 82% said advertising would continue to be a main source of revenue. 57% thought digital subscriptions would be a main source, while 54% responded that they thought print subscriptions would be a leading revenue generator.
"Our goal is to increase advertising revenue in an environment that is more challenging than ever to reach decision makers who aren't in office."
Areas of Focus
When asked about the coming year, 89% said digital subscriptions would continue to be an area of focus. 85% responded that they plan to focus on advertising solutions, while 67% will aim for reducing production costs.
"Next year, we would like to find new ways to serve advertising clients."
In Their Own Words
When asked to share one word to describe their businesses in 2022, publishers responded with everything from scrappy, resourceful and changing to steady, optimistic and normal. But the most common word summed up the year for many publishers: challenging.
We also asked respondents to share their professional goals for 2023. Here's a sample of what they said: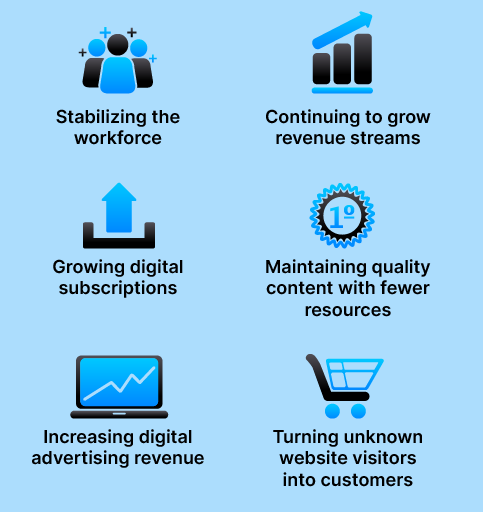 How AAM Can Help
When asked how AAM can help publishers, 52% said they would like AAM to share more insights about how buyers use their data, while 41% said sharing more stories about successful programs from other publishers.
AAM's new Media Mavens interview series features insights from AAM clients around the industry about their careers, companies and innovative programs they have helped implement.
As publishers focus on increasing digital advertising, AAM is helping quality publishers stand out and recognized for their commitment to transparency and quality through services like AAM's Digital Publisher Audit and partnerships with organizations such as the Journalism Trust Initiative and JournalList. We look forward to working with our publisher and buyer clients in 2023 on even more new solutions.
To learn more about how AAM helps publishers earn greater recognition in the digital ecosystem, contact us.