Danielle O'Connell, Vice President, Client Development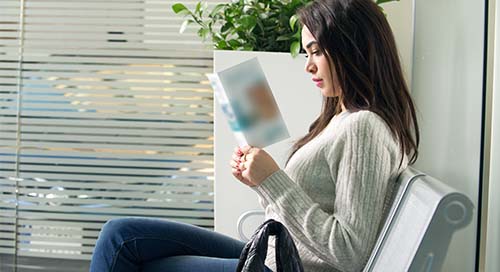 Healthcare marketers and media providers are finding new ways to share relevant messages with patients at the point of care through print materials, screens, tablets and more. As advertising investment in these channels continues to increase, marketers want assurance about the validity and quality of the campaign results. Through the Point of Care Marketing Association (POCMA), the industry has come together to set standards to foster greater transparency in point-of-care media.
An independent, third-party audit brings a higher level of transparency to conversations between advertisers and point-of-care media providers. At AAM, we have combined years of print and digital auditing experience to create audits specifically for point-of-care media.
Here's a brief introduction to the who, what, where, when and why of AAM's third-party point-of-care media audits:
WHAT: A Third-Party Point-of-Care Audit
A third-party audit goes behind the scenes to determine whether a POC media provider's system is delivering accurate, reliable and consistent metrics. Marketers might have questions about the channel they're investing in. Does the POC media provider's network include the number of locations it says it does? Were guides delivered to the correct locations? Did the ad play during office hours on waiting room displays that were functioning properly? Independent, third-party audits serve to answer some of these questions.
"Clients need to know that what they're paying for is what is actually being displayed," said Kendra Haines, vice president group director, POC investments, Havas Media Group. "Audits help verify that what we purchased was delivered. By having audits, we can show our clients that their investment was properly handled."
While each audit is customized depending on the unique characteristics of the POC media provider's distribution system and controls, all audits include three basic steps:
Pre-Audit Assessment and Initial System Evaluation – To properly plan an audit, the auditor must have a comprehensive understanding of the processes in place to identify known limitations and potential areas of risk. During this phase, auditors ask questions to assess the system's risk and to understand how ads are delivered and measured. The initial assessment is intended to expose gaps and the process, shape the overall scope of the audit and help educate the POC media provider about industry standards and best practices to help the audit run more efficiently.
Reviewing and Testing - During the audit, the POC media provider's processes, procedures and controls are evaluated to determine whether they can prevent errors from occurring or at a minimum, detect and correct errors when they do occur. Auditors examine documents and data provided by the POC media provider and conduct tests to determine whether the system is providing accurate data. For example, during a print campaign the auditor may examine delivery records to determine if collateral was distributed to a specific location.
Reporting – When the audit is complete, auditors issue a formal report to the POC media provider that summarizes the audit findings as well as recommendations to improve their processes.
WHO: Point-of-Care Media Providers
The more transparency POC media providers achieve the more trust they develop with their clients. Engaging in a third-party audit demonstrates the provider's commitment to transparency by verifying that their system has optimal accuracy, reliability and consistency. AAM's point-of-care clients include print distributors, healthcare content creators, point-of-service software companies, marketing platform providers, HCP database providers and other out-of-home advertising solutions companies.
WHERE: Digital & Print
Audits are adaptable to provide assurance for a variety of channels. Here are some examples of how AAM has adapted generally accepted auditing standards to serve both digital and print point-of-care media:
Campaign Audit – Analysis of a specific ad campaign to determine whether the data collected meets the deliverable outline in the contract. Examples include analyzing data for a campaign that runs on digital or printed wallboards, waiting room TVs, interactive tablets or in a brochure or magazine.
Network Audit – Analysis of a POC media provider's network to verify the number of devices and/or locations that make up the network. In-person observations are a key component for both print and digital network audits.
Platform Certification – A complete analysis of the policies, procedures and controls in place to ensure the POC media provider's ad delivery system is providing accurate, reliable and consistent results. Learn how AAM's platform certification helped provide greater transparency to Phreesia's patient intake platform.
WHEN: Continuous Monitoring
Many AAM audits take a continuous verification approach. The initial audit establishes benchmarks so that anomalies are easily detected and mitigated during subsequent analyses. Continuous monitoring provides advertisers with ongoing assurance that the campaign or platform provides them with accurate and reliable metrics.
WHY: Trust + Transparency = Results
Greater assurance in point-of-care marketing fosters greater transparency for the industry and leads to stronger relationships between media buyers and sellers. Audits nurture transparency by providing advertisers with an independent assessment of their advertising ecosystem which leads to greater confidence in their media buys and greater ROI.
The audit process also benefits POC media providers by giving them experienced feedback that can lead to system improvements and optimization. The more committed POC media providers are to the quality of their advertising delivery systems, the more advertisers will trust using it. Investing in a third-party audit is proof of that commitment.
Want to learn more about how point-of-care audits can help you gain trust with your advertisers? Contact me at danielle.oconnell@auditedmedia.com.