During AAM's recent annual business meeting, the results of the director elections were announced including the election of a new director representing U.S. news media.
Kevin Denny, Vice President, Consumer Revenue, Advance Local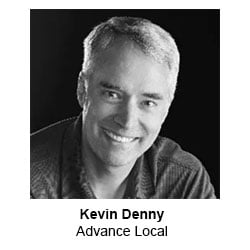 Kevin Denny is the vice president of consumer revenue for Advance Local where he leads print and digital consumer revenue efforts and circulation operations.
Denny has been with Advance Local for 24 years. Much of his time was spent at The Oregonian where he started as circulation director and later became vice president of circulation and operations. He left Oregon to become Advance Local's southeast division general manager where he oversaw operations for Alabama, Louisiana and Oregon. Prior to joining Advance Local, Denny spent 11 years with Gannett and five years with his hometown newspaper in McMinnville, Ore.
Denny and his wife, Tammy, live in Birmingham, Ala. Outside of work, he enjoys getting outdoors to hike, camp or just wander.
2021 Board Officers and Re-Elections
The following individuals were re-elected to the AAM board and will serve two-year terms:
Advertisers
Eric O'Connor, CVS Health
Cheryl Sone, Ulta Beauty
Advertising Agencies
Christopher Black, Publicis Groupe
Jeanne Finegan, HF Media, LLC
Karen Finelli, Zenithmedia
Kathy Heatley, Starcom Worldwide
Steve Mueller, NSA Media
B2B Media
Rosheen O'Donovan, American City Business Journals
Magazine Media
Bonnie Kintzer, Trusted Media Brands
Doug Olson, Meredith Magazines & National Media Group
Monica Ray, Condé Nast
News Media
Jerry Hill, Gannett Publishing

The following individuals were also elected officers of the board:
2021 AAM Board of Directors Officers
Chairman: Chris Black, Publicis Groupe
Vice Chair: Scott Kruse, GroupM; Dan Schaub, The McClatchy Company; Phillip Crawley, The Globe and Mail; and Cheryl Sone, Ulta Beauty
Secretary: Steve Mueller, NSA Media
Treasurer: Rosheen O'Donovan, American City Business Journals
Visit AAM's website for a full list of directors.
Learn more about AAM's annual business meeting by reading the recap.