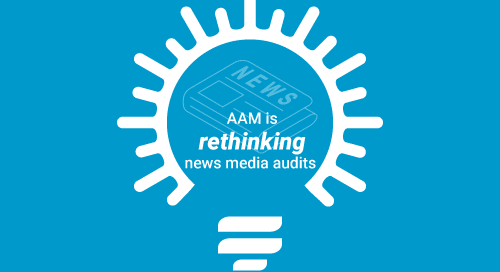 1. How is September reporting impacted by this announcement?
AAM is working diligently to update the Publisher Filing Center so U.S. and Canadian news media clients may submit their September information. Due to the number and extent of changes, we have delayed the opening of the Publisher Filing Center:
Thursday, October 29 – Publisher Filing Center opens for all U.S. and Canadian news media
Thursday, November 12 – Filing deadline for all U.S. and Canadian news media
2. How is my current audit impacted by these changes?
Any audits currently underway—ending in June 2020 and before—will continue under the previous rules and guidelines. Beginning with audits ending in September 2020, AAM will move to the new standards.
3. When will my audit change?
AAM audit staff is working through a schedule to transition all clients to the new audit format. As the end of your current audit period approaches, AAM staff will contact you to discuss a new schedule.
4. How are community newspapers impacted by the new audit process?
News media organizations enrolled in the community newspaper audit program will continue with their current audit plan.
5. What will the new reporting look like?
You can view a prototype of the daily and community news media formats on AAM's website. Highlights of the new format include a consolidation of the nonpaid and digital reporting categories, collapsing verified circulation into qualified circulation in the U.S., and top-line data only for community newspapers. For U.S. news media, reporting by market such as NDM, city and RTZ is also being removed to focus on ZIP code data.
September 2020-ending reports will feature many of the changes outlined above with the balance of changes implemented for March 2021-ending reports.
AAM will issue annual audit statements highlighting findings from any of the intermittent testing.
6. What nonpaid categories are being combined?
In the U.S., qualified and verified circulation will be combined into a single category labeled qualified circulation with break outs for home delivery—addressed, public access, market coverage and other qualified circulation, which will include NIE, employee and university copies. You can view a prototype in the resources hub.
7. What digital categories will be reported?
Digital circulation will continue to be reported by replica and nonreplica format. You can view a prototype in the resources hub.
8. How is the definition of individually paid circulation being redefined?
AAM is simplifying the definition for individually paid circulation for clarity. The new qualification requirements will focus on the final purchase price paid by the consumer—at least one cent, net of all considerations—and purchaser intent—the goal of the transaction was to purchase a newspaper. This is consistent with the historic definition.
9. Are there any metrics being eliminated?
In addition to consolidating some subcategories of nonpaid and digital circulation and zone reporting, AAM is also phasing out other unused metrics including the 4% allowance for credit/grace copies, the unique subscriber percentage and age of source request. You can read more about each of these changes in our Ask AAM series.
10. How will my actual audit change?
AAM clients will experience a changed audit. No longer defined by a yearly period with concentrated audit work for the publisher, the audit will now focus on periodic testing to offer continued assurance while providing more flexibility and time saving opportunities for publishers. Additionally, in-field testing may be replaced with phone interviews, affidavits or distributor payment documentation. Flyer and insert audit programs like IVS, CDVS and FDSA may reduce many on-site audit requirements.
AAM will also deploy new automation technology to help validate and authenticate publisher data.
Learn more about how we're modernizing the audit experience by reading our interview with AAM's Ken Shultz.
11. How often will new data be released to the market?
U.S. news media clients will continue to report top-level ZIP code data quarterly. U.S. and Canadian news media will report a full set of data twice-yearly for the periods ending in March and September. AAM will continue to release annual or every-other-year audit statements.
Sample U.S. News Media Schedule:
ZIP code reporting for all four quarters
Full data reporting for six-months ending in March and September
Annual or every-other-year audit statement
Sample Canadian News Media Schedule
Quarterly reporting for June and September 2020
Six-month reporting for periods ending in March and September starting in 2021
Annual or every-other-year audit statement
12. How will these changes save me time?
AAM anticipates publishers will see a significant reduction in the amount of time their staff spends preparing for and participating in the audit due to the less intensive recordkeeping requirements, flexible testing schedule and reduction of in-field testing. Additionally, the easier-to-understand rules and standards will be more accessible to new staff and will not require extensive expertise to implement.
13. Do you have a list of all the changes?
We've created a high-level infographic outlining how audits and reporting are changing. You can view it on our website.
14. Are media buyers supportive of these changes?
Media buyers are aware of the changing news media landscape and supportive of sensible audit and reporting rules that reflect current realities while still providing the most sought-after data. These changes were developed with and supported by many large news media buyers including those on the AAM board. You can learn more by reading this point-of-view by Steve Mueller of NSA Media.
15. How can I learn more?
AAM has created a hub of resources on our website including interviews with industry leaders, in-depth Q&As, prototypes and tutorials. You can view all the resources here.
Finally, if you have any questions, please reach out to your audit manager.