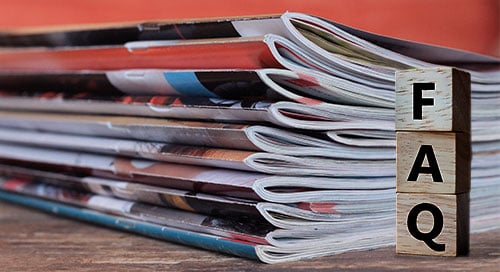 AAM's new magazine simplification initiative is designed to streamline reports and data with updated reporting requirements that reflect current market conditions and modernize the audit process, while ensuring buyers have the necessary information to make informed decisions and transact in a trusted environment. Below we answer some frequently asked questions about the changes.
When are these changes effective?
All changes associated with the magazine simplification initiative are effective for January 2022 issues and will first be reflected on June 2022 statements and data for U.S. and Canadian magazines.
How is my current audit impacted by these changes?
Audits ending December 31, 2021, and before will continue under the previous rules and guidelines. Beginning with the January 1, 2022, for the June 2022 statement period, the new rules will apply. Some audit timelines may be moved as we work to accommodate the changes in structure. Your audit manager will notify you if your magazine is impacted.
What will the new publisher's statement look like?
You can view a prototype of the new format on AAM's website and watch a video overview. Highlights of the publisher's statement format include a consolidation of the nonpaid circulation and membership categories.
How is average price being calculated?
AAM is updating the average price calculation to make it more intuitive for publishers and to better reflect what buyers expect when they review the data. You can learn more about the average price calculation in our Ask AAM column.
What are branded membership programs?
Branded membership programs are a new area of development for many AAM titles. These membership programs are associated with a magazine brand and offer a variety of rewards and perks, including a subscription to the magazine, for the membership fee. You can read more about branded membership programs and how they'll be reported on AAM reports in our Ask AAM column.
Do I still need to report Rapid Report data?
U.S. magazines with circulation above 500,000 will continue to submit issue-by-issue updates to Rapid Report. Those with less than 500,000 circulation are strongly encouraged to continue submitting based to provide their media buying partners with up-to-date information. AAM will also add a new upload feature to streamline data input. You can learn more on our website.
What are the changes to verified circulation?
AAM is streamlining the reporting of verified and analyzed nonpaid circulation. Verified circulation will continue to be reported by public place and individual use, but there will only be five subcategories instead of 40. The consecutive issuance requirement is also being removed.
Analyzed nonpaid list, market coverage and delivered with host product will all move to verified circulation while nonpaid bulk will continue to be reported in a separate analyzed nonpaid bulk category. You can read more details on our website.
How will this new audit save me time?
Publishers will experience several time-saving benefits with the modernized audit. Auditors will implement new procedures that analyze your submitted data to track any anomalies and address them in real time. Your AAM audit team will also work closely with you to ensure your publisher's statement filing is accurate and address any inconsistencies at the time of filing instead of several months later during the audit. Finally, many programs will be reviewed throughout the audit period instead of at the close, again allowing issues to be addressed in real time and ensuring a faster audit completion. You can learn more about the audit on our website.
Do you have a list of all the changes?
We've created a high-level infographic outlining the changes. You can view it on our website.
Are media buyers supportive of these changes?
Media buyers support sensible audit and reporting rules that reflect the changing magazine media landscape while still providing the most sought-after data. These changes were developed with and supported by many magazine media buyers including GroupM, Spark Foundry, OMD, Rolex and more.
How are other publishers reacting to these changes?
Doug Olson, formerly of Meredith, was a leader during the rule review process. In an interview with AAM, he explains the motivation behind the project and what he hopes it will accomplish for the industry.
Are there any other rule or reporting changes?
In addition to some of the more significant rule and reporting changes outlined above, there are some more straightforward changes, including:
Update post-expire rules to include three months of service regardless of the original subscription term.
Shift deferred circulation copies to individually paid and copies used in school classrooms to sponsored subscriptions.
Eliminate unused transfer qualifications guidelines.
Eliminate channels of sales reporting.
Align Canadian and U.S. digital rules for multi-title programs.
Are the COVID-19 exceptions still in place?
In spring 2020, AAM issued a series of exceptions to help magazines manage through the COVID-19 pandemic. Those exceptions were extended several times and will expire on December 31, 2021. The new rules associated with the magazine simplification initiative will begin January 1, 2022.
Are there any changes that only effect Canadian magazines?
Most U.S. and Canadian magazine rules and reporting already align. For Canadian magazines, there is a change to how multi-title digital programs are counted. You can read more on our website.
How can I see where circulation will be reported under the updated rules?
AAM has created a category map to show you where circulation is reported under the previous guidelines and where it will be reported for January 1, 2022, issues. You can view it on our website.
How can I learn more?
AAM has created a hub of resources on our website including interviews with industry leaders, in-depth Q&As, prototypes and tutorials. You can view all the resources here.
If you have any questions, please reach out to your audit manager. If you'd like to request a personalized training session for your staff, please contact us.