The COVID-19 pandemic has impacted every business in North America differently. AAM recognized that many in the news media industry were affected and reacted by adjusting auditing and reporting rules to help news media companies continue to provide valuable data for media buyers. Q1 2020 data is now available in the Media Intelligence Center for many newspapers. Here are a few frequently asked questions about the data.
Why is Q1 data not available for some newspapers?
AAM removed the mid-April filing deadline for Q1 data and encouraged newspapers to report by the end of May. Currently, about 70% of AAM newspaper clients have submitted data. AAM is working with newspaper clients to help file data when requested.
Why does some Q1 data end in February and others in March?
AAM gave news media organizations the option to modify this reporting period. For Q1, newspapers may report data for January 1 through February 29 or January 1 through March 30. Most newspapers are sharing data through the end of March.
For newspapers that do not report March data, the audit will cover an 11 or 23-month period with an explanation that March was excluded due to the COVID-19 pandemic.
What other changes were made that buyers might not immediately notice in the data?
A few other changes include the option for news media companies to:
Substitute digital copies for print copies to subscribers, if they can access the digital copy.
Convert employee and Newspapers in Education copies to digital service. When normal business resumes, these conversions must revert to print copies.
Omit more than 10 days from their circulation averages if there is a variance of more than 5% from the preceding typical day.
Serve grace copies beyond the previous 90-day and 4% limit.
Any of the above changes will be explained in the notes section of the quarterly report. In all the above cases, the audit requirements will revert once normal business resumes.
Where can buyers find more information about how newspapers are handling the COVID-19 pandemic?
AAM has created a new optional Brand View tab for publishers to share their COVID-19 updates, strategies and successes. For example, newspapers may share increases in subscriptions, website traffic gains, or changes to production schedules or frequency.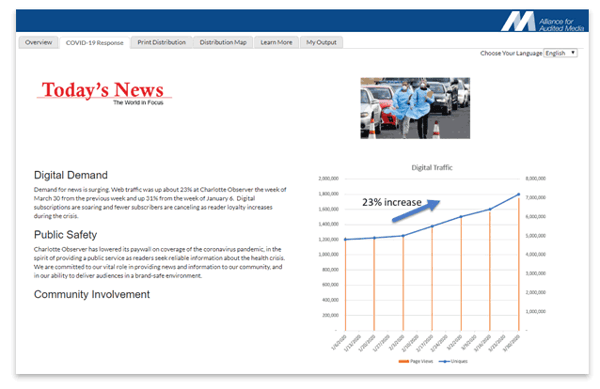 You can also learn more about how news media publishers are navigating the COVID-19 crisis and how industry leaders are responding by reading some of our latest blog posts.
How will Q2 data be impacted by COVID-19?
AAM is working closely with news media publishers and buyers to understand how business operations are affected by the ongoing crisis. Plans for Q2 are developing as the situation evolves. Further communication will be issued in the coming months.
AAM is here to answer any questions you have about Q1 news media data. Please contact Jenni Anderson for more information.