By Andrew Susman, President, Institute for Advertising Ethics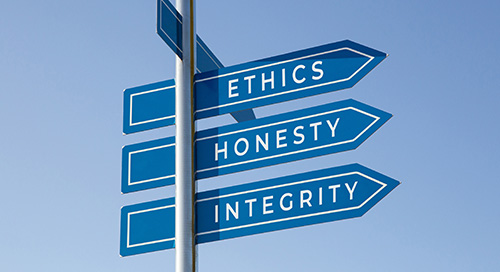 Consumers are increasingly purchasing products and services from brands that align with their values, from climate change and the environment to social issues and ethical advertising. These trends are also found in the workplace as more employees prioritize purpose. As the market becomes more competitive, advertisers committed to ethical practices and transparency need to find ways to demonstrate that commitment.
The Institute for Advertising Ethics (IAE) certification program helps marketing and media professionals do just that. IAE's Certified Ethical Advertising Executive (CEAE) training course provides a deeper understanding of how ethics can positively influence business decisions. AAM recently partnered with IAE to create a module on the ethical challenges of ad fraud to help marketers learn the importance of investing in transparent media.
Here are five ways ethics training empowers marketing and media professionals:

In today's marketplace, a great product no longer guarantees strong sales and loyal customers. Empowered consumers seek brands that promote beliefs and values aligned to their own and reject corporate irresponsibility. Becoming certified in ethical advertising shows your customers that you are committed to upholding these values and prioritize transparency in all aspects of your business.

Ethical companies have been shown to have an advantage over the competition. According to Ethisphere's 2023 Ethics Index, the world's most ethical companies outperformed a comparable market by 13.6%. Becoming certified in ethics can give your company a leg up when competing for consumers' attention.

Gen Z is the first generation to prioritize purpose over salary. The Deloitte Insights 2020 Global Marketing Trends Report found that purpose-driven companies achieve higher employee satisfaction and retain 40% more of their employees than their competitors.

The CEAE program was developed with the University of Texas, Austin, and provides a comprehensive curriculum for advertising professionals committed to trust and transparency. By participating in this course, you will demonstrate to clients and colleagues that you take ethics seriously and stay current on industry issues. Once you finish certification, you will also be eligible to participate in IAE's Ethics Connect program where you can learn more about topics important to you and connect with others in the industry.

CEAE's comprehensive, expert-led curriculum features self-paced, online learning modules so that you can learn whenever and wherever you learn best.
Need another reason to become a Certified Ethical Advertising Executive? IAE is currently offering AAM clients $100 OFF the regular price of $350. Enroll at iaethics.org and enter code AAM100. Corporate training rates are also available. Contact IAE to learn more.