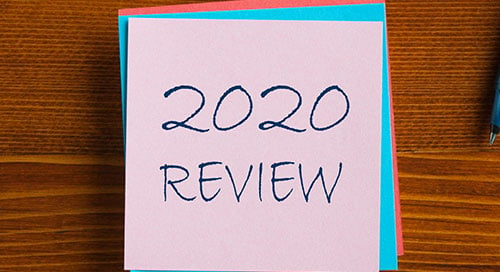 2020 was a year filled with many challenges; from an unrelenting pandemic to a social movement and a contentious election, we wanted to know how our clients and their businesses fared in 2020. In a recent survey, we asked nearly 60 media company respondents to share the ups and downs of 2020. Here's what they had to say.

The Positives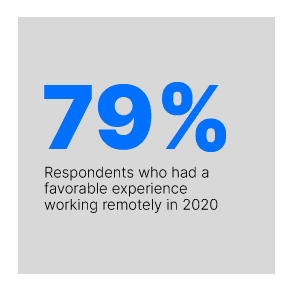 It's easy to think about all the ways 2020 negatively impacted lives and businesses, but were there any positives? Our survey respondents identified several areas, most overwhelmingly was working from home with 79% saying they had a favorable experience working remotely in 2020. Additionally, 60% said they enjoyed more flexibility in their workday.
Sixty-eight percent of respondents said their media products experienced growth in digital subscriptions and 19% said they saw an increase in print subscriptions.
Innovation also received a boost with 28% of respondents saying they experienced more creativity in developing offerings for advertising clients and 23% said they thought of new, creative ways to attract readers.
About their remote work experiences, respondents said, "We've experienced an increase in collaboration with units across our division," and "Working 100% remote has led to better collaboration and communication."
The Negatives
In an unprecedented year like 2020, there are many negatives. Seventy-nine percent of our survey respondents said they lost advertising clients in 2020 and 56% said they experienced a decrease in print subscriptions.
While working from home and increased work flexibility were cited as positives, more than 50% of respondents said they had an increase in work responsibilities.

How AAM Can Help
In the last year, AAM has offered a series of COVID-19 accommodations to ensure rules and filing requirements reflect the realities of the changing market. We've also launched a news media simplification initiative aimed at reducing the audit requirements while still providing trusted data for media buyers. And just recently, the ANA offered support for our digital audit program. We asked survey respondents if there were other ways we could help.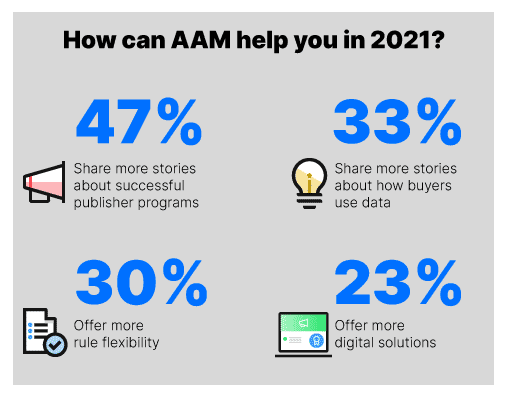 What Should Stay in 2021
Finally, we asked our survey respondents what—if anything—they wanted to take from 2020 into 2021. Working from home and flexibility were the most often cited. Here are a few of the top responses, in their own words:
People understanding that the newspaper is a credible news source and not social media.
The new filing format for AAM.
Flexibility in remote working.
Hopefully, we will continue to see a rise in digital subscriptions.
Creative responses to unforeseen challenges.
Knowledge that work flexibility has not bottomed out. There's always a different way to look at it.
Seeing a more diverse group of advertisers.
Nothing.