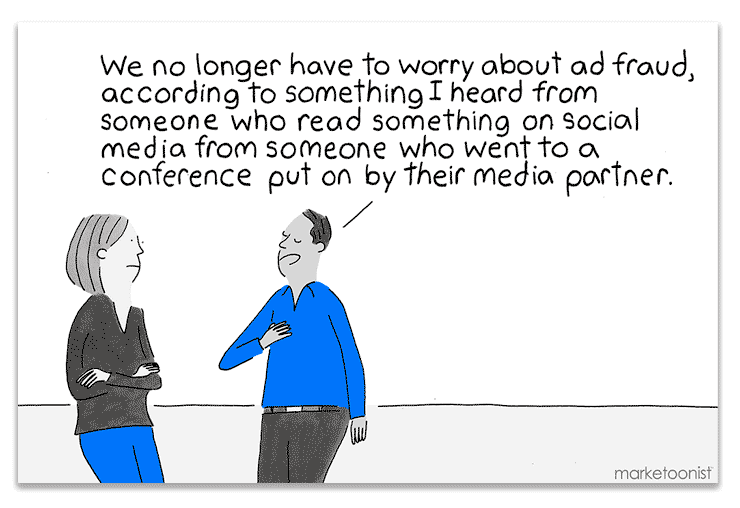 The dangers of digital ad fraud have been on marketers' radars for several years, with headlines featuring the detection of multimillion-dollar schemes and estimates of global ad fraud losses reaching in the billions.
You might think that with the latest technology and solutions available to detect fraud that it's not as big of an issue as it once was. Think again. Ad fraud is still plaguing the digital display ecosystem and infiltrating new channels such as connected TV. It's important that marketers remain vigilant by understanding the risks and the solutions available to mitigate them.
Here we look at three common ad fraud misconceptions and what marketers can do to minimize fraud in their campaigns.
Misconception #1:
"We use ad fraud detection software. We have fraud covered."
Fraud detection software is an important part of how the market transacts today because these solutions measure invalid traffic and add friction to combat fraud. When these services are accredited by the Media Rating Council, marketers can have confidence that their fraud detection partners are adhering to industry standards for measurement.
However, since each vendor uses a proprietary method to measure and filter invalid human traffic (IVT), one solution might detect something that another one misses. The 2019 ANA/WhiteOps Bot Baseline report explains that less than half of all impressions are fully, transparently validatable. Also, since fraudsters often adapt and change their tactics to avoid detection, they can create bot traffic that sometimes looks human enough to go undetected by software. Partnering with an MRC-accredited fraud detection vendor is a great start, but marketers need to combine it with other anti-fraud solutions.
Misconception #2:
"I heard that ad fraud is declining. It was once a problem but isn't much of one anymore."
There are multiple ad fraud loss estimates that range from $6 billion to $50 billion globally and could reach as high as $100 billion by 2023. Now that multiple solutions exist to fight fraud, more publishers and ad tech platforms are implementing these tools to address the problem. However, it takes marketer support to encourage widespread adoption.
The IAB Tech Lab developed tools such as Ads.txt, Sellers.json and the OpenRTB protocol to give marketers insight into the details of their transactions by identifying authorized sellers and resellers of inventory and all participants involved. The Trustworthy Accountability Group brings together organizations from across the supply chain to set standards that promote greater transparency in digital advertising. TAG's Certified Against Fraud program recognizes companies that meet the group's guidelines and best practices for combating invalid traffic. These industry solutions provide marketers with visibility into the supply chain and should be integrated into every marketer's buying process.
Misconception #3:
"We know the publishers we partner with, so our campaigns aren't at risk for fraud."
Many marketers and media buyers have a process in place to vet their media partners. Marketers may visit websites to check that their potential partners have a recognized brand, quality content or a legitimate advertising environment. However, simply visiting a website might not reveal issues such as whether the site provides legitimate human traffic and a quality advertising environment, verified by a third party.
A new industry solution provides greater transparency at the publisher level. The AAM Digital Publisher Audit does the vetting for marketers and media buyers by performing an assessment of a publisher's business operations and traffic sourcing policies and analysis of the quantity and quality of website traffic. The resulting validation helps quality publishers stand out as having valid human audiences and acts as a signal for marketers to make more informed media buying decisions.
Once a publisher has completed the audit, their domain is included in the AAM Audited Domain List, which marketers can use to build inclusion lists and prioritize audited publishers in DSPs and direct buys. The publisher's website is then continuously monitored to provide ongoing assurance.
The war on ad fraud won't be won with one solution. But there are steps marketers can take to protect their media investment and minimize fraud risk. By implementing multiple industry-backed solutions, partnering with organizations that use these tools to reduce fraud and investing in audited domains, marketers can minimize fraud risk and maximize the ROI of their media budgets.
For more Marketoons and insights on minimizing ad fraud risk, download our e-book, "Media Buying 'Toon' Up: How to Achieve Better Outcomes Through Digital Media Assurance."