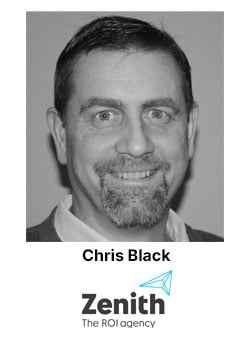 Chris Black, senior vice president of strategy for Zenith, has more than 30 years of marketing and media strategy experience. He currently manages several hundred million dollars of Kohl's media billing and in October was elected chairman of the AAM board of directors. We recently spoke with Chris to get his insights on the challenges of 2020, how media buyers can leverage audited digital media and his vision for AAM this year and beyond.
AAM: How have the events of the past year changed the way you evaluate media?
Chris Black: The basics of the evaluation process have remained the same, but our objectives have radically changed. We shifted from buying mostly national advertising to a hybrid solution of national and local media so we could capitalize on local areas that were not as impacted by the virus and still had stores open. This year has proved that it's more important than ever to be able to quickly understand an audience and the media channels available within a market.
AAM: What role do audits play in that process?
Chris Black: Audits are nearly as important to us as the air we breathe. Having verification of what you're paying for is the only way to have transactions founded on trust. Our level of risk tolerance is very low because it's low for our clients. Third-party verification provides us with the level of trust and assurance that we want in every transaction.
AAM: AAM recently launched its Digital Publisher Audit. How does identifying audited digital media benefit the industry?
Chris Black: Knowing where and how a publisher gets their audience data is extremely important to us. The AAM Digital Publisher Audit takes a comprehensive look at a publisher's website traffic and indicates they have proper business practices in place to attract a human audience. The audit gives us an opportunity to change the dynamic so that we have a deeper understanding of what we're buying, where that audience came from and that the publisher has a system in place to continue to deliver a high-quality platform.
AAM: How can media buyers activate AAM's Audited Domain List?
Chris Black: The applications for having a list of audited publishers are far and wide. It allows advertisers and agencies to develop their own private marketplaces and create a screening in the RFPs of direct to publisher buys by indicating which websites have a high level of assurance and minimal bot traffic. It will also have a measurable impact on revenue generation for audited publishers because they can say that they have something that is verified and meaningful, which will help them stand out from unaudited publishers.

Audits are nearly as important to us as the air we breathe.
- Chris Black, Zenith
AAM: What message would you share with other media buyers about the role audited digital media plays in the marketplace?
Chris Black: It's important to make sure real people are seeing your ads. By using industry-backed solutions from the Media Rating Council, Trustworthy Accountability Group, IAB Tech Lab and AAM, we're narrowing the window of opportunity for bad actors to enter the picture. These solutions create more opportunities for good actors while giving advertisers greater assurance that their media investment is being put to good use.
AAM: What topics would you like to see the AAM board tackle in the coming year?
Chris Black: My goal is to bring our new digital services to life. We are currently providing complementary digital audits to publisher clients for the first year. I'd like to expand participation in this program and make it universal. I'd also like to see the board drive the level of engagement and acceptance of the audit among agencies and advertisers and show them how it complements other industry initiatives from the MRC, TAG and IAB Tech Lab. My hope is that soon everyone will understand the positive effect industry solutions like AAM's Digital Publisher Audit have on the ecosystem.
AAM: What's one thing you would like AAM clients to know about the board's mission?
Chris Black: Our mission is to strengthen trust between buyers and sellers through third-party assurance. That passion for greater transparency guides every action we take. I believe if we can increase media transparency and make it more widespread, that's only going to help the industry now and set us up for a stronger, more transparent future.
In this two-minute video, Chris shares how digital publisher audits help publishers and advertisers and why the AAM board is committed to increasing transparency in the industry.