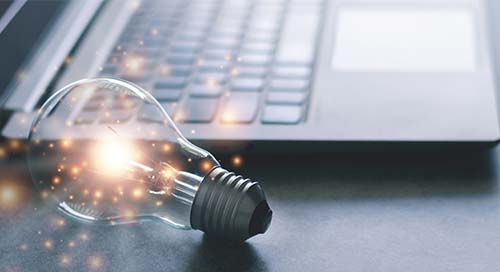 At AAM's recent annual business meeting, Tom Drouillard, CEO, president and managing director, spoke to clients about AAM's performance in 2022. He also shared results of the director elections and discussed key initiatives, many of which were developed in response to feedback received from clients during AAM's 2021 client survey. Here's a recap of his comments.
Simplified Rules
Drouillard shared results of the 2021 client survey in which AAM received a 94% overall client satisfaction rate. In addition to providing feedback about how they value AAM data and services, clients were asked to identify areas where they could use more support. Respondents mentioned wanting faster audits and data, which is something AAM began to address in 2020.
"When the pandemic began, we knew we needed to provide some accommodations for publishers to ensure they could continue to provide data to buyers," Drouillard said. "And on the buy side, we heard that they needed AAM information to be able to make decisions in an uncertain environment."
As a result, AAM reviewed all rules and reporting requirements and revised AAM's audit programs to:
Simplify AAM rules
Streamline reporting
Reduce recordkeeping requirements
Modernize the audit process
Maintain a high level of assurance for buyers
Working with the AAM board of directors and membership, these changes were first implemented for news media publishers in 2020 and completed in 2021. Magazine media changes were implemented in January 2022.
Data Distribution
Clients also shared that they wanted more robust data. Drouillard said that AAM's data distribution strategy remains a core part of AAM's services, with tools to help publishers and buyers access independently verified data such as:
AAM's Media Intelligence Center contains data for nearly 1,500 premium publishers in the U.S. and Canada and includes many useful tools and reports.
AAM Brand View allows publishers to customize profiles with text, images and company information alongside their AAM-verified data. These profiles also house information such as ZIP code maps, Rapid Report and audience data from the Magazine Media 360° report.
Magazine Media 360° is a quarterly industry report featuring print and digital editions, web and mobile web traffic, and video views for premium magazine brands. Look for Q3 2022 data to be released in early November.


Greater Digital Assurance
Drouillard said clients also asked for greater digital representation and assurance. AAM offers several ways for publishers to represent their digital offerings:
AAM's Digital Publisher Audit is an analysis of a publisher's website to ensure that it is optimized for analytics and advertising. AAM reviews website traffic, business practices and monetization strategies to give publishers confidence that their analytics are correct and their advertising systems meet industry standards.
AAM also audits publishers' digital editions across news, magazine and B2B media. We consistently review the rules and reporting options. For example, in 2021, AAM updated the news media rules to align with the promotions companies are offering readers.
Publishers' AAM Brand View profiles are a great way to represent or understand publishers' digital options – it's their website, digital editions, newsletter, social media, apps and more. Many publishers have added more digital channels to publishers' profiles over the past year.
AAM Resources
Clients also value ongoing education and ways to help them stay informed on industry changes.
"Education and communication are a major focus for all of us at AAM," Drouillard added. "We are here to help by leveraging our expertise in both print and digital auditing and passing that knowledge along to our clients."
AAM continues to help clients stay informed by:
Offering frequent webinars
Publishing dozens of articles, videos and reference guides in AAM's online support center
Providing relevant news, industry insights and data alerts in a monthly newsletter and blog
Hosting one-on-one training on data filing, preparing for an audit, data analysis and Brand View
Developing the AAM Activation Kit – a collection of materials clients can use to show their business partners that they believe in third-party accountability.
AAM Welcomes POC-Focused Directors
Drouillard also discussed how AAM provides assurance to point-of-care media and AAM's collaboration with members of the Point of Care Marketing Association to develop industry standards and best practices. As a reflection of this market's rapid growth, AAM recently announced the designation of two seats on its board of directors to allow for greater representation for POC/OOH members. Elections for these seats will take place later this month, and results will be announced soon after.
Learn more about who was recently elected and re-elected to AAM's board of directors in this article.