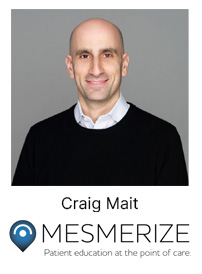 Mesmerize, an out-of-home and point of care marketing company, strives to provide patients and communities with education and resources to improve their lives and healthcare outcomes. The company works with AAM to verify its media campaigns and network of doctors' offices and pharmacies to achieve certification from the Point of Care Marketing Association.
We recently spoke with Craig Mait, Mesmerize's president and chief revenue officer, who oversees all aspects of the company's business development including building client and agency relationships and developing new partnerships for the company's long-term success.
Craig shares insights about his company's commitment to underserved communities, why advertisers should invest in point of care marketing and how third-party audits establish greater credibility and trust in the industry.
AAM: What is Mesmerize's mission?
Craig Mait: Our mission is to connect people to valuable information, resources and tools that empower them to proactively manage their health and improve their sense of well-being. We enhance people's lives through education, enrichment and entertainment to help them realize the best version of themselves and drive positive healthcare outcomes. Mesmerize's patient education materials help raise awareness about condition management, prevention, and treatment options, and provide conversation catalysts for patients to have meaningful conversations with their healthcare providers.
AAM: What is one thing you would like clients to know about your company?
Craig Mait: Mesmerize is committed to improving health literacy and closing the health equity gap. We are active in underserved communities that often have limited educational resources and opportunities. The messaging we distribute to these communities is paramount for increasing health literacy and is often the only method by which these communities are connected to health education and resources. As the only point of care company focused on reaching underserved patient populations, including those living with an infectious disease such as HIV/AIDS and Hepatitis, Mesmerize strives to address the most prevalent health-related issues among the most vulnerable yet underserved communities.
AAM: Why is it important for your products and network to be verified by a third party?
Craig Mait: Compliance and verification are at the forefront of every Mesmerize patient education campaign. Clients' trust in our campaign process is crucial for the success and credibility of not only our organization, but for the point of care media channel overall. Third-party verification solidifies Mesmerize's position as an organization that represents trust, transparency and compliance with the highest industry standards.
AAM: What did you learn during the certification process?
Craig Mait: It has been extremely beneficial to have one document, the Point of Care Marketing Association (POCMA) Verification & Validation guidance, governing what Mesmerize as a company and the POC industry are trying to accomplish in terms of trust and transparency. It helps to level the playing field across the industry and informs brands and agencies of the standards they should strive for when assessing credibility of companies within the space.
AAM: Why should an advertiser invest in point-of-care media?
Craig Mait: The value of point of care is unparalleled in terms of its ability to hyper-target, avoid wasted impressions and reach consumers at the right time and place. The point of care environment allows brands and advertisers the unique opportunity to reach health-conscious consumers when and where they are making important healthcare decisions, inspiring meaningful discussions among patients and their healthcare providers and ultimately driving better health outcomes.
AAM: Why is Mesmerize an AAM client?
Craig Mait: As a company committed to trust and transparency, it was important to us to choose a third-party auditor that is a recognized leader in media verification and an approved Point of Care Marketing Association (POCMA) auditor. AAM has proven to be an outstanding audit partner, delivering accurate, independent and thorough analyses of our media campaigns and distribution networks. AAM has played a critical role in our ability to continue to foster the trust and confidence of our clients within the point of care community.
Get an overview of the basics of point of care marketing audits.