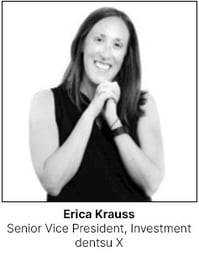 Erica Krauss, dentsu X's senior vice president of investment, oversees media investment across all channels for luxury goods company LVMH and helps build new partnerships and strengthen existing ones. She was recently elected to AAM's board of directors representing agencies. We sat down with Erica to learn more about her role at dentsu X, how she evaluates media partners and why she values greater media transparency.
AAM: How has your business changed since the pandemic began?
Erica Krauss: Before the pandemic, our spirit brands were heavily brick-and-mortar, and our fashion brands didn't have a strong e-commerce presence. The pandemic changed the way people shop and use our brands. We had a huge ramp up in ad tech to make digital more of a crux in the business so we could better find consumers in this new normal. On the spirits side, we built out partnerships that focused on in-home consumption. In fashion, we started analyzing data and making connections between what consumers were exploring online and what was driving them into stores.
AAM: What is your process for evaluating media?
Erica Krauss: We are working with a new platform that provides us with many media options including print, digital and CTV. Once we review our options, we start conversations with these partners to learn more about how they track and validate their data. If a publisher provides verified data and can prove that they're attracting real people and not bots or invalid traffic, then they will have a leg up in consideration when we recommend them to our clients.
AAM: Why did you join the AAM board?
Erica Krauss: I've known about AAM for a long time mostly from a print perspective, but I'm excited about the organization's evolution toward digital verification. Having the opportunity to be part of that transformation and making an impact on the industry was something I couldn't pass up.
AAM: What is something your team accomplished that made you proud?
Erica Krauss: There are many creative campaigns I could mention, but I think I'm most proud of the conversations we are having with our partners about issues like campaign performance, benchmarking and viewable impressions. This is important work that will push everyone forward and encourage the evolution toward greater transparency.
AAM: What would you like to share with marketers about the importance of transparency?
Erica Krauss: Our clients entrust us with the responsibility to spend their investment wisely. That responsibility is only as good as the resources we rely upon to make sound media decisions. Having transparency into who we're reaching and where we're reaching them is paramount to that responsibility. It's not just about making sure we can account for every dollar, but that we account for it in a way that's meaningful to the client and with full visibility.
Get to know Erica
What excites you about your career?
No two days are the same. We're constantly changing, learning and growing. It excites me to know that I can leave a little bit of a mark on that.
Early bird or night owl?
Definitely an early bird.
What is one item on your 'bucket list'?
Skydiving. I don't care where just as long as there's an amazing view.
What is one must have part of your morning routine?
Coffee. As much of it as possible. Enjoying a cup at the breakfast table once my kids are settled in calms me and gets my day off to a good start.