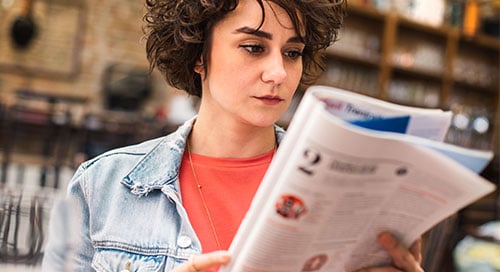 AAM recently released two reports — Snapshot and Magazine Media 360°. Since these are the first magazine reports issued covering periods affected by the COVID-19 pandemic, we provided answers to some frequently asked questions to help you understand and interpret the data in these reports.
What data is included in these AAM magazine reports?
Magazine Snapshot is an AAM-sourced and compiled report that features top-line circulation data such as subscriptions and single-copy sales for all AAM magazine clients in the U.S. and Canada. This Snapshot report covers the second half of 2020 (July 1 through December 31, 2020). It is available to AAM clients in the Media Intelligence Center.
Magazine Media 360° is an AAM-compiled report that measures magazine audiences across multiple platforms and formats — print and digital editions, desktop and mobile websites, and video — to provide a complete picture of magazine media reach.
Compiled monthly and released quarterly, this industry report features data from leading third-party vendors (Gfk MRI, Ipsos and Comscore) for more than 90 U.S. magazines. It is available for download on AAM's website.

What's the difference between the two reports?
Snapshot and Magazine Media 360° are separate reports highlighting two different forms of data measurement for the magazine industry.
AAM's Snapshot report focuses solely on circulation by reporting the number of print and digital copies distributed for consumers to read. Snapshot covers a six-month period.
Magazine Media 360° measures readership of print and digital editions based on the methodologies of Gfk MRI and Ipsos. A single print copy of a magazine may be read by several people depending on how and where it is distributed. The digital data — desktop and mobile websites and video — in Magazine Media 360° is measured by Comscore. The report is released quarterly but the data is compiled monthly.
The reports also include data for two different universes of magazines, with some overlap. The Snapshot report includes almost twice as many U.S. titles as the Magazine Media 360° report.


How is the circulation data in Snapshot impacted by COVID-19?
The Snapshot report for the second half of 2020 contains data for more than 190 U.S. magazines and shows overall paid and verified circulation down by nearly 4%. Verified subscriptions — copies commonly distributed in public places like waiting rooms and airport lounges — down more than 33% or 2.3 million copies. Single-copy sales, including newsstand sales, down 21% or 1.4 million copies, while paid subscriptions dropped 2%. Because this Snapshot report covers the timeframe of July through December 2020, the declines in public copies and newsstand sales can be at least partially attributed to closures and mitigation practices related to the COVID-19 pandemic. More detailed analyses can be performed when full publisher's statements are released in the coming weeks.


How is the data in Magazine Media 360° impacted by COVID-19?
The Magazine Media 360° shows that overall brand reach fell 8% in the month of December for the more than 90 titles included in the report. Print and digital edition readership declined 18% while desktop website traffic increased 14%. Mobile web traffic and video views decreased by 3% and 2%, respectively.
Despite drops in December, magazines still showed a 3% increase in overall brand reach year-to-date monthly averages. Print and digital edition readership dropped 7% while desktop (13%), mobile (11%) and video (12%) all reported gains.
Many magazines did show individual gains in overall brand audience. Top 10 lists by brand reach and brand reach gains are available on AAM's website.
The data in the report reflects the widespread behavioral changes that occurred during the COVID-19 pandemic including changes to how Americans work, travel, shop, entertain themselves and more.


How should I interpret this data?
The overall data in both reports represent a fraction of the magazines circulated in the United States and may not reflect the magazine industry as a whole, nor each individual magazine's circulation, readership and distribution strategy.
Fall 2020 saw the United States working to control the spread of the coronavirus as it experienced one of the worst spikes in the year-long pandemic with various states implementing different restrictions. The data in the reports demonstrates the impact of COVID-19 on the magazine industry and captures a significant time in U.S. history.