Steve Guenther, Vice President, Digital Auditing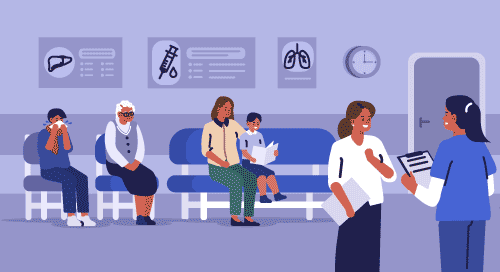 Point-of-care advertising spend continues to increase, with global consulting firm ZS estimating that ad spend in POC media could reach $1 billion by 2025. But wherever media investment grows, so does the need for accountability. Audits have long been a staple in traditional media and are fast becoming equally important to point-of-care marketers. As more money enters the ecosystem, advertisers are demanding a higher level of accountability. Independent, third-party audits are the answer.
AAM's audit team has many years of experience performing both print and digital audits. Our digital auditors are Certified Information System Auditors (CISA)—a globally recognized certification for auditors of information technology and business systems. Ongoing training ensures that our team stays current with the latest technology and industry developments, which enables us to take established audit processes and apply them to innovative point-of-care media platforms.
In this excerpt from our POC Audit Guide for Media Buyers, we leverage this experience to explain AAM's audit process when applied to point-of-care media. While each audit is customized depending on the unique characteristics of the POC media provider's distribution system and controls, all audits include three basic steps:
1. Pre-Audit Assessment and Initial System Evaluation
To properly plan an audit, the auditor must have a comprehensive understanding of the processes in place to identify known limitations and potential areas of risk.
For example, media buyers run the risk of buying locations where ads are never displayed on a screen, where posters are never placed on a wallboard, or magazines that never make it to the waiting room.
During this phase, auditors ask questions to assess the system's risk and to understand how ads are delivered and measured by the system to ensure compliance with the applicable standards. These questions are examples of how the initial assessment is intended to expose gaps in the process, shape the overall scope of the audit and help educate the POC media provider about industry standards and best practices to help the audit run more efficiently.
Auditor Risk Assessment Questions
The audit begins with questions to better understand how the ad delivery system is set up and to uncover potential areas of risk. Sample questions include:
How is data collected?
What software is used to ensure that the ad plays and is displayed on the screen?
What controls are in place to ensure that all data is collected from each device and processed only once?
How does the provider monitor its network to ensure that devices are working as intended as well as the accuracy of its location database?
How does the provider determine if collateral was produced, shipped, received and displayed at a location?
How does the provider manage its network of Healthcare Providers (HCPs)? Do they use a recognized third-party source or is this information collected by the provider?
2. Reviewing and Testing
During the audit, the POC media provider's processes, procedures and controls are evaluated to determine whether they can prevent errors from occurring or at a minimum, detect and correct errors when they do occur. Auditors examine documents and data provided by the POC media provider and conduct tests to determine whether the system is providing accurate data. For example, during a print campaign the auditor may examine delivery records to determine if collateral was distributed to a specific location.
Statistically relevant sampling may also be used, such as contacting a certain percentage of locations to confirm product receipt and validate the distribution claim. For a digital audit, playlogs may be analyzed to confirm campaign performance and physical audits may be conducted to verify the size of the network including the number of locations and devices. If physical audits are conducted, geo-timestamped digital photos are made available to the POC media provider to support the audit findings.
AAM audits take a continuous verification approach to provide ongoing assurance. The initial audit establishes benchmarks so that anomalies are easily detected and mitigated during subsequent analyses.
3. Reporting
When the audit is complete, auditors issue a formal report to the POC media provider that summarizes the audit findings as well as recommendations to improve their processes.
To learn more about the benefits of POC media audits and steps buyers can take to foster greater transparency in POC media, download AAM's Point-of-Care Audit Guide for Media Buyers.