Dan Schaub, corporate director of audience development, McClatchy
Editor's note: Dan Schaub is a director on AAM's board and an architect of AAM's latest news media initiative.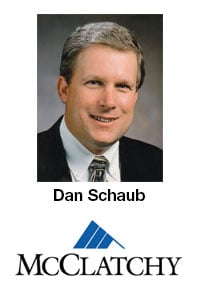 The world in and around media has changed and will continue to change, but in the middle is the constant of our customers, and buyers and sellers of media. As a seller of media, we want to help buyers spend their money in the most cost-effective way possible and our partnership with AAM has always aided us in that goal. With this new simplification initiative, AAM is acknowledging the changing landscape, connecting people from both sides of the conversation, and developing new ways for us to conduct business, including allowing us to spend more time with our readers.
There are many details in these changes, but if you look at the big picture, the real benefit is encouraging news media to focus on the quality of the audiences we deliver for buyers by creating a product the consumer values.
We're going to spend a lot less time looking up audit rules and we need that change. The world moves so fast now that we can't afford to get bogged down in overly detailed rules and extensive reporting documents. We still need guidelines and structures to separate facts from the misinformation we see outside our industry, but we also need flexibility. Our industry has always taken pride in our relationship with AAM and our efforts to quantify and qualify above and beyond other mediums. Simplifying the audit, streamlining reporting, and eliminating unused data frees up time and energy to focus on how we engage audiences. Because the better we serve our audiences, the better we serve our buyers.
Let's take targeted neighborhood programs, for example. These are products that many news media companies have developed to better connect with their local communities, but the previous AAM rules were time intensive and sometimes invasive for our readers, requiring us to knock on doors or make phone calls to verify delivery. AAM heard our feedback and found more modern solutions to verify distribution by using internal documentation and affidavits. This provides a more comprehensive audit instead of just a small sample and it frees up our staff to focus on bringing the product to market and connecting with our consumers. I hope other publishers realize the significance of this shift and see the value of having their whole portfolio audited, available and ready to purchase by buyers.
AAM is more relevant today than ever and their ability to quickly respond to the changing needs of their clients is remarkable. Local news media companies are exactly what we need in this time of uncertainty. We have real people living in our communities. Real people who trust us to deliver information critical to their lives and wellbeing. There is no better way to reach those people than through us. AAM helps us qualify that audience and connect with buyers. Being audited by AAM is healthy for our company, healthy for our investors and healthy for media buyers. It's now more essential than ever.
Learn more about the news media simplification initiative by visiting our resources hub.