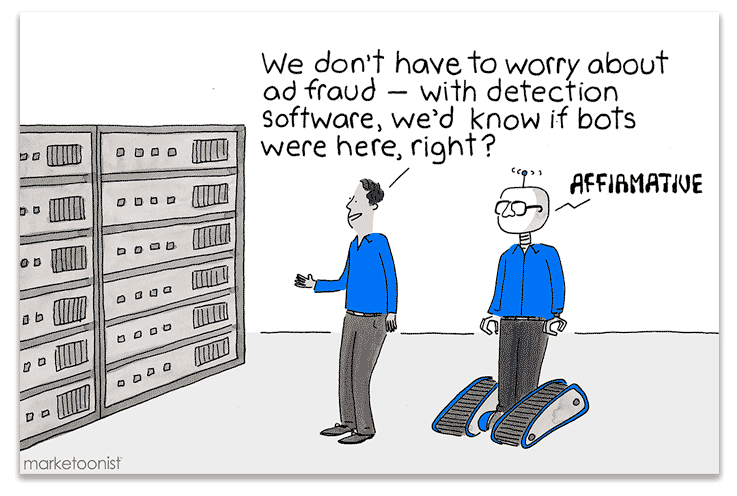 For most marketers, a fundamental step to improve marketing performance is ensuring that ads are served to humans. This may seem basic, but in today's opaque and complex digital ecosystem, there is high probability that a portion of an ad campaign will be served to bots.
Over the years, individual companies and industry organizations have introduced solutions that address specific high-risk areas to mitigate this risk. Yet the nature of independent solutions leaves holes in the system that fraudsters easily exploit. A new framework that connects, coordinates and layers these solutions is emerging to help marketers increase performance.
A simple way to think about this framework is the "Swiss cheese model," which is used in many industries to communicate safety protocols. This "Swiss cheese model" recognizes that there is no silver bullet that adequately addresses all aspects of the high-risk areas of the digital supply chain. Rather, each solution is like a slice of Swiss cheese that delivers solid protection against specific high-risk problems and has holes when it comes to other issues. Stacking the cheese slices offers more comprehensive protection, addresses the most high-risk areas, minimizes fraud risk and better assures marketers that ads are served to humans.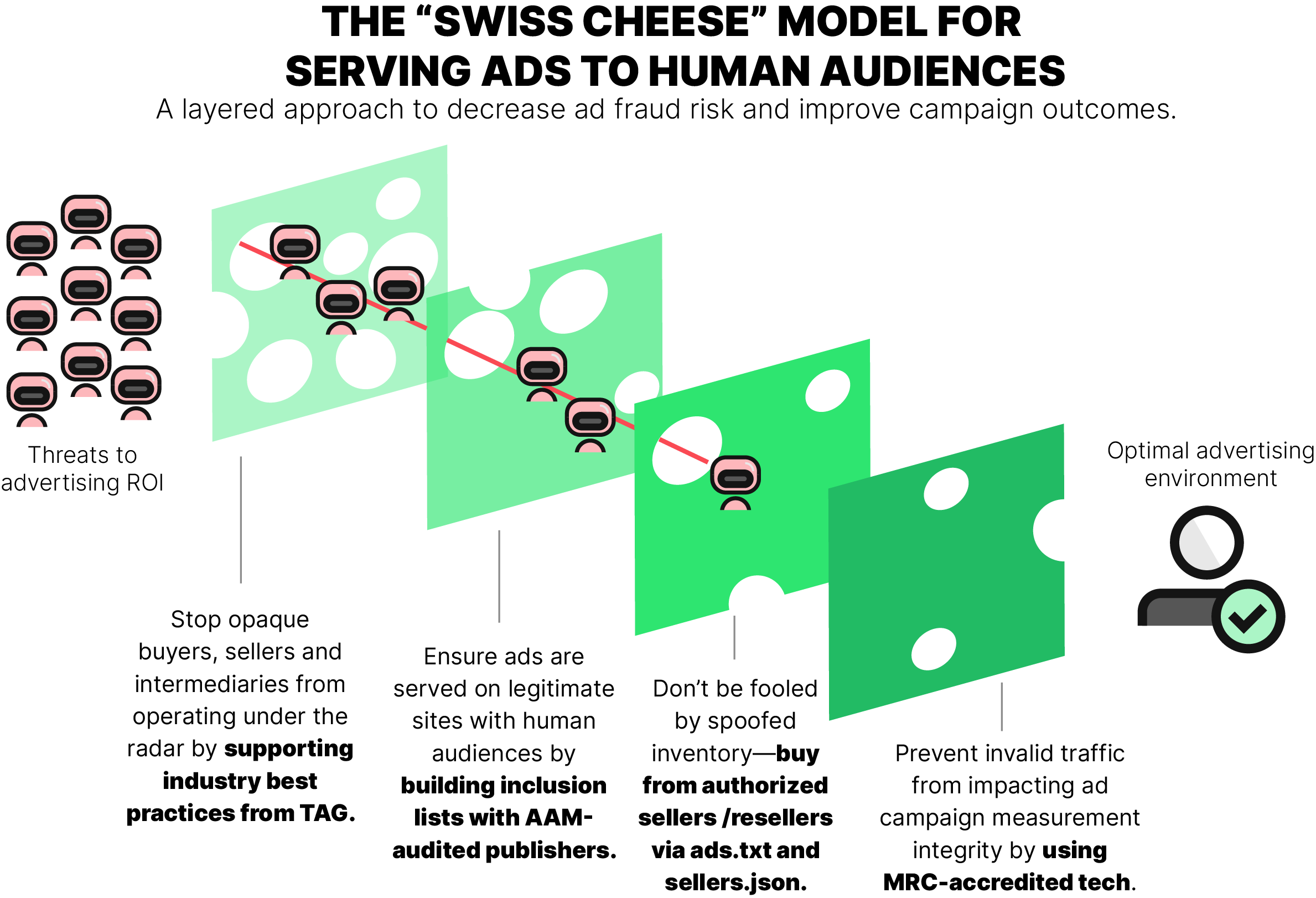 Major industry associations continue to independently develop assurance solutions — their slice of cheese — that address risk in their respective areas of expertise. Over time these solutions have become complementary slices in the stack, addressing critical areas including measurement integrity, supply chain transparency and control, best practices and publisher audience validation.
Ad campaign measurement integrity is needed to support buyers and sellers when transacting. The Media Rating Council (MRC) provides protection as it sets industry standards and guidelines to define and measure invalid traffic (IVT). Marketers and agencies use MRC-accredited vendors to detect and measure IVT from an ad delivery perspective.
The IAB Tech Lab develops standards and solutions to increase supply chain transparency and control. Tools such as Ads.txt, Sellers.json and the OpenRTB protocol give marketers insight into the details and better control of their transactions by identifying authorized sellers and resellers of inventory and all participants involved, which helps address domain spoofing.
A shared set of standards helps marketers interact with companies across the supply chain. The Trustworthy Accountability Group brings together companies to set standards that promote greater transparency. TAG's Certified Against Fraud program certifies companies — buyers, direct sellers and intermediaries — that meet the group's guidelines and best practices for combating invalid traffic.
Marketers need foundational assurance that their ads are not running on questionable sites or being served to bots that go undetected by measurement technologies. The AAM Digital Publisher Audit authenticates legitimate publishers with valid traffic to address fraud from a publisher traffic delivery perspective and integrates with MRC, IAB Tech Lab and TAG initiatives.
The assurance provided from these solutions when stacked is far greater than the sum of the parts. The Association of National Advertisers supports these efforts and collaboration to make the slices work together. Individual advertisers and agencies that implement all layers have the best chance to optimize their results.
For more Marketoons and insights on how to increase marketing ROI, download our e-book, "Media Buying 'Toon' Up: How to Achieve Better Outcomes Through Digital Media Assurance."