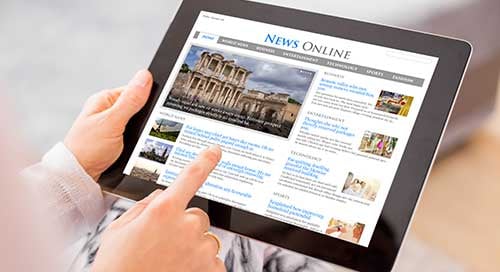 Earlier this year, AAM announced its partnership with JournalList to include all AAM-audited publishers in Trust.txt, an industry initiative designed to recognize publishers as members of trusted industry organizations and associations. We recently spoke with JournalList's executive director, Mark Stencel, to learn more about Trust.txt, how it helps quality publishers stand out, and what's next for the program.
AAM: What is your background?

Mark Stencel: I was a senior editor at NPR, The Washington Post and Congressional Quarterly. I've worked in broadcast media, print (newspapers and magazines) and digital media.
In addition to my work on JournalList, I also teach at Duke, where I'm co-director of the university's Reporters' Lab. Like JournalList, our lab focuses on misinformation. We work directly with fact-checking organizations in more than 100 countries — the PolitiFacts and Snopes of the world.
Working on JournalList now means I get to operate on both sides of the misinformation problem. While the fact-checkers verify the accuracy of political statements and debunk viral rumors and hoaxes, JournalList is working directly with news organizations and media associations to elevate credible news sources.
AAM: What problem is JournalList trying to solve?
Mark Stencel: A great many of us depend on unreliable mechanisms to find reliable news online. We depend on search engines, social media and messaging services to deliver our headlines.
Our solution: Journalists are in a much better place to determine the credibility of news outlets than the tech platforms are. We have created a simple system for validating news media organizations that's based entirely on the news industry's existing relationships.
AAM: How does Trust.txt work?
Mark Stencel: The process is based on the affiliations that just about every news organization has — state press associations, national news chains and networks, local publishers and trade groups. The Alliance for Audited Media was among the first to join this effort, along with Digital Content Next, the Associated Press, the Association of Alternative Newsmedia, and some of the largest state press associations in the country, among others.
By making those affiliations and connections visible, we are creating a machine-readable map that search and social services can easily scan. The platforms can rely on those relationships as "trust" signals to help spotlight reliable news sources for their audiences.
It also creates a mechanism that digital sponsors and advertisers can use to decide which news outlets they trust to work with.
AAM: Is the process complicated?
Mark Stencel: It is incredibly low-tech. It depends on a simple text file — a trust.txt file that each participating organization posts on its website. If the trust.txt file for the Daily Planet says it's an AAM member, and AAM's trust.txt file says the Daily Planet is a member, the respective text files make that connection visible to all. Since each news organization has many of those connections and relationships, they can quickly show the world their existing network of trust.
The same process also validates each news organizations' official social media channels, giving them a way to fight "catfishing" artificial accounts.
AAM: Where did the idea come from?
Mark Stencel: This is actually an old idea. It works exactly like the ads.txt files websites use to make digital advertising more transparent. Before that, sites used robot.txt files to help search engines index their webpages properly.
The germ of the idea came from another former journalist, Scott Yates, who realized that a similar system could work for the news media. Scott started JournalList as part of his stint as an Entrepreneur in Residence at CableLabs, the research arm of the broadband industry. Scott formed it with Ralph Brown, former CTO of CableLabs, and misinformation expert Claire Wardle of Brown University on the board. Earlier this year, Randy Picht of the Reynolds Journalism Institute at the University of Missouri got involved, too, and Randy helped bring me on board.
AAM: What are your goals?
Mark Stencel: The goal is to elevate trustworthy news outlets on all the major digital platforms. To do that we need to get as many news organizations as possible into this system. We are focusing much of our attention on large media groups that share content management systems. Shared publishing systems make it easier for us to deploy the trust.txt files.
But we also care a lot about local news sites and the growing number of specialized, beat-focused news sites that have smaller digital footprints. In fact, our system probably helps those folks the most. The larger media groups can quickly get us up to a level that's useful for social and search platforms. At the same time, that allows us to elevate smaller outlets, which are even harder for the big tech companies to sort out on their own. A core belief of JournalList is that the tech companies shouldn't be the ones who decide what is and what is not "news." Journalism organizations should. And JournalList's trust.txt files are a simple and efficient way to make that possible.
For more information about participating in Trust.txt, check out these FAQs.