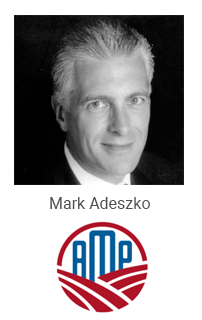 American MainStreet Publications, the largest network of rural lifestyle publications in the United States with 26 member magazines, completed its first network-wide AAM circulation audit last year to verify its collective audience of more than 9 million print subscribers.
We recently sat down with Mark Adeszko, AMP's senior vice president and chief operating officer, to hear how the AAM audit has helped AMP's magazines reach national advertisers and why he found it important to partner with AAM.
AAM: Why did AMP decide to have a network audit?
Mark Adeszko: An audit is the price of entry into any conversation with national advertisers. They expect to see numbers that have been validated by a third party. Having an AAM audit proves that we take transparency seriously, and we're glad to prove that to them. A network audit was viewed as the first and most critical step to providing credibility and validation of our large circulation for national advertisers who were unfamiliar with our collective story.
AAM: Why choose AAM?
Mark Adeszko: I've been in the business for over three decades, and AAM has always been recognized as the leader for circulation verification. AAM is highly regarded by most advertisers and their agencies, and some of our publications had worked with AAM for their individual audits.
AAM: How has the audit helped AMP publications?
Mark Adeszko: It's opened a lot of doors for us and helped our network gain national exposure. Having a network audit shows that we're a serious player with a large audience. Our circulation of over 9 million puts us right up there with some of the largest magazines in the U.S. In addition to national exposure for our brands, it's also made our network a more cohesive group. While each publication is unique, together they become part of something bigger, creating more opportunities for everyone.
An AAM audit of the AMP publications immediately places us in a select group of media properties.
AAM: How do you use the audit to help you sell more advertising?
Mark Adeszko: The audit is showcased on every sales call and in every presentation that we do for advertisers and agencies. We include a copy of the audit in our media kits and a link to it is on our website.
AAM: Have you seen an increase in sales because of the audit?
Mark Adeszko: Our sales are definitely higher over the past 18 months. I think the growth comes partly from an expanded portfolio of advertisers as well as an increase in spending with some of our larger existing partners.
Since completing the audit, we are now starting to gain traction with more national brand advertisers across many new categories of business for the publications, including automotive, insurance, and retail.
AAM: AMP recently launched a network AAM Brand View profile. How do you use Brand View?
Mark Adeszko: Brand View gives a quick overview of our entire network in one location that's easy to share with advertisers. We regularly include our profile when presenting to national advertisers, which makes it easy to give a complete overview of our entire network.
AAM: What is the value of a network audit for advertisers?
Mark Adeszko: Today's media landscape is filled with myriad choices with new entries opportunities launching every day. For advertisers, the challenge isn't about not having enough options to invest in, but rather which places are reliable and credible enough to invest in. An AAM audit of our publications immediately places us in a select group of media properties that have the third-party endorsement of an organization that is respected in the industry.