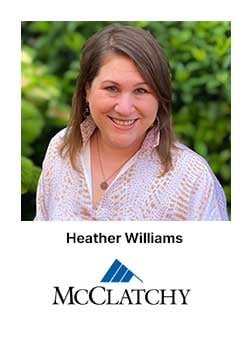 Heather Williams oversees McClatchy's print plus acquisition and retention subscription business and has held various leadership positions during her 16-year career with the company. This year she joined AAM's board of directors representing U.S. news media. We recently chatted with Williams to learn more about how McClatchy engages readers, why it's important to share a cross-media story and how media assurance builds trust.
AAM: You provide support to 28 markets overseeing single-copy operations, market support, and consumer revenue projects. What are your current goals?
Heather Williams: My team is focused on maximizing our print plus revenue and nurturing our customers toward a digital relationship. McClatchy's overall focus is on providing value to our audience. Everything we do points back to the consumer.
AAM: How do you engage readers?
Heather Williams: Engagement is about creating moments. This means connecting our content to readers through different formats such as newsletters, apps, podcasts and dynamic e-editions. We recently launched a program that asks readers to share their favorite holiday traditions. All of these efforts add up to meaningful interactions that build stronger engagement and relationships.
AAM: How did McClatchy adjust to COVID-19?
Heather Williams: Like many companies, we had to adapt quickly and learn how to operate a 24/7 business in a remote environment. We learned a lot about our employees and how to energize teams in a virtual setting. These challenges led to deeper relationships and connections across our organization.
AAM: The hashtag #SubscribeLocal is featured prominently on McClatchy's social channels. What is the meaning behind this message?
Heather Williams: We serve each of our diverse communities through robust journalism that helps us share their stories. Stories that come out of our communities are national stories for others, for us it is local. Each of us plays a large part in our community's success and the only way these communities survive and thrive is by what we put back into them. The need to support local journalism has never been greater!
AAM: In what ways are data important to your business?
Heather Williams: Data is king. Capturing first-party data allows us to improve our interactions with consumers and provide them with relevant, personalized services that build deeper relationships.
AAM: What role do audits play?
Heather Williams: Audits provide trust, accountability and transparency that is critical both internally and externally. Audits give advertisers confidence in our data since it has been verified by a trusted third party.
AAM: AAM Brand View allows publishers to share a 360° view of their brand and audience. How does McClatchy use the platform?
Heather Williams: Brand View is one of our story books. It provides a dynamic one-stop shop for advertisers to see our entire portfolio and distribution footprint. It also helps our staff easily access data and analytics for individual markets in one location.
AAM: Why did you join AAM's board of directors?
Heather Williams: For me, there's no greater honor than to represent an industry that I love so much. I look forward to connecting with other leaders on the board and working together to make a difference in our industries.
AAM: What excites you about news media?
Heather Williams: What isn't exciting about it? I can't imagine where we would be if it wasn't for what news media provides in keeping our communities informed, vibrant and connected. I think everyone should be excited about the future of news media and where we are today.