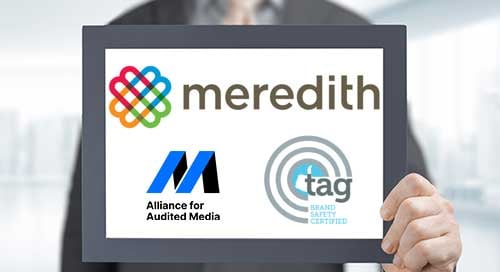 With more than 40 brands and websites, Meredith's focus is connecting readers to content they can trust for every stage of life. They are also committed to creating brand safe, viewable, fraud-free environments for digital advertisers and engage with numerous industry initiatives to do so. Earlier this year, AAM talked with Meredith's Lisa Pezzuto, senior manager, ad tech compliance, about the company's participation in AAM's Digital Publisher Audit. We reconnected with Pezzuto to learn more about Meredith's latest digital assurance achievement — independent validation via AAM for TAG's Brand Safety Certification.
AAM: Why did Meredith choose to earn the TAG Brand Safety Certified seal?
Lisa Pezzuto: We saw an opportunity to reaffirm to our advertisers and clients that we have best-in-class policies and practices for guarding against fraud and ad misplacement across our digital properties. TAG's brand safety certification demonstrates our dedication to providing a brand safety framework that provides choice, control, transparency and protection to our consumers and advertisers.
AAM: Why did you choose AAM for your independent validation?
Lisa Pezzuto: We have a close relationship with AAM, and we appreciate your shared commitment to helping digital publishers identify and amplify best practices for protecting against fraud. We participate in AAM's Digital Publisher Audit, which addresses fraud at the publisher level by analyzing website traffic and publishers' adherence to best business practices. I find AAM a pleasure to work with, especially on large-scale projects.
AAM: Tell us about your experience undergoing the independent validation.
Lisa Pezzuto: We've always been committed and disciplined about brand safety and brand suitability, but the independent validation process was a great opportunity to take a 360-degree view and really focus on critical components beyond our day-to-day work, including auditing editorial content. It also encouraged social learning; the information shared between groups was structured and valuable.
AAM: Were there any challenges during the process?
Lisa Pezzuto: The most useful challenge was writing the audit plan. There are so many departments involved in keeping our brand safe, and this was a chance to strengthen our internal network of colleagues who collaboratively ensure everything on our pages is compliant.
AAM: What other digital assurance initiatives is Meredith involved in? How do they work together?
Lisa Pezzuto: Meredith is a founding member of TrustX and continues to actively participate in product development. We're also involved with IAB Tech Lab, including ads.txt and its new data-transparency standard. All these initiatives work together to create a more transparent ecosystem.
AAM: Meredith was one of the first to participate in the AAM Digital Publisher Audit and is also an early adopter of the TAG certification. What advice do you have for others considering these programs?
Lisa Pezzuto: Always remember that the trust of our consumers and advertisers is essential. Don't hesitate to embrace programs and practices that preserve that trust.
The process may seem daunting at first, but all the information is there. Look at the data files, meet with the taxonomy team, meet with your editorial leads. It's a fascinating process to connect with the other parts of the business. It was fun and really got my wheels turning with connections and ideas.
Also, the AAM team is invaluable. Just let them lead you through the process. The independent validation helps you develop skillsets that you didn't know you had, and the cross-learning was amazing. Our teams worked well together, and collaboration has gotten stronger.
AAM: Meredith also engages in AAM print audits and point-of-care audits, so it seems like you have a strong company culture in independent verification.
Lisa Pezzuto: On the sales side there is crossover with all the different validations and the needs of our clients. Our belief in trust is strong; we believe transparency builds trust.
AAM: How do your media buying partners react to these programs?
Lisa Pezzuto: They're elated to hear we're involved. It helps them check the box and feel confident that they are doing business with a responsible partner who is compliant with industry best practices.
AAM: What's next for Meredith?
Lisa Pezzuto: Identity. In a future without third-party cookies and the mobile identifier changing, having first-party data capabilities is key. We continue to evolve our privacy practices, continue to bring real-time insights and intent signals to better predict trends, and give advertisers a brand-safe environment to reach consumers at the time they are most likely to engage with a product or service.