A new feature available in AAM Brand View gives publishers a quick and easy way to share information about their coronavirus response with media buyers. The COVID-19 tab allows publishers to list important information such as web traffic increases, production changes and new products and services created for their advertisers and communities.
This feature is free for all AAM publisher clients and can be quickly activated and customized via AAM's Publisher Filing Center. AAM's team is also available to help. Contact us to get started.
Media buyers access publishers' profiles by searching AAM's Media Intelligence Center for the most recent verified publisher information. Each profile—including the COVID-19 tab —can be shared via a customized link that allows anyone to view a publisher's profile without logging in to the Media Intelligence Center.
Publishers can customize the COVID-19 tab to include text, images and links to give advertisers a comprehensive look at their response to the crisis. This information can be updated as frequently as needed to keep advertisers informed of the latest changes.
Publishers can include a variety of information including:
Increases in digital traffic or new subscriptions
Changes to services and products, including new products offered or retail distribution changes
Changes to your business including hours, contact information or staff working remotely
Changes to production schedules or product frequency
Community involvement
Advertising rate changes or incentives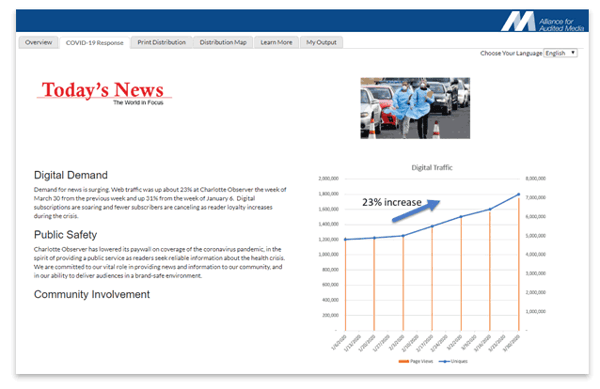 Need to activate your Brand View profile? Check out this article or contact us.