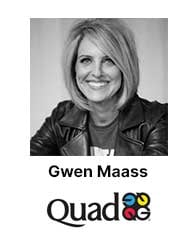 Quad is a leading marketing solutions partner that uses its unique integrated marketing platform to help marketers and content creators improve efficiencies and effectiveness. Gwen Maass, a new member of AAM's board of directors, serves as vice president of media services at Quad, and chats with AAM about Quad's evolution, the value of audited media and the pandemic's long-term impact on media buying.


AAM: Tell us about your role at Quad.
Gwen Maass: Many people probably know Quad as a printer, but in recent years we've acquired several agencies and evolved into a marketing solutions company. My job is to integrate the legacy media offering from within those agencies, continue our evolution by strengthening it and ultimately compete as a full-service media agency that offers comprehensive end-to-end solutions.
For the second year in a row, Quad was recognized as a top 25 agency by Ad Age, and I'm proud of that and proud that we're bringing a different type of agency to the market.
I'm also proud of the efforts Quad has taken in the diversity, equity and inclusion space. We have robust education and support programs to help people manage and lead in an inclusive manner. I think it has helped employees feel valued, given us a sense of belonging and freed everyone to join in and become part of a greater purpose.


AAM: How did you get involved with AAM?
Gwen Maass: I've been in the industry for 25 years and I've always known about AAM. As a young person in the industry, we were trained on using audits to ensure we were giving our clients the very best information by using the gold standard of rigor.
We're at a pivotal time in media with service providers to the print industry working to expand and reinvent themselves. When the opportunity arose to join the AAM board, I was excited to help provide guidance to move AAM forward, and to be the voice of agencies and our clients in that process.


AAM: What is one thing you think AAM does well?
Gwen Maass: At its core, AAM is the gold standard and advertisers do put a stake in that reputation. They want the credibility AAM provides to know they are investing in real, verified circulation. AAM has also done a good job of being flexible as needs have changed. The recent news media initiative is a great example: AAM heard the feedback from the industry and responded by streamlining the statement and changing how copies are counted. That type of responsive action sets the stage for the future where flexibility is going to be the norm.
Get to Know Gwen
What is your favorite thing about your career?
I like that it's been different. I've been in the industry more than 25 years, and I've been able to evolve with it. It's nice to know people in the industry and build personal relationships with my clients, my peers and the people sitting on the other side of the negotiating table.
What are your favorite news sources or podcasts?
Locally, it's the Minneapolis Star-Tribune. Nationally, I like to view news from a variety of sources, it's important to stay balanced and hear from multiple sides.
What's your favorite holiday?
Thanksgiving. I love the food, family, and football.
What's your biggest pet peeve?
In my personal life, it's the overwhelming number of shoes at the back door of my house that never get put away.
Professionally, it's people who don't take accountability. I appreciate people who attack daily challenges with a sense of accountability, make things happen and do their best possible work to service our clients.
AAM: Are you seeing any long-lasting impacts from the pandemic?
Gwen Maass: 2020 was the year where everything shut down, and 2021 is the year where we try to find the right balance, compensate for disruptions last year, or continue to build on successes. The trend is there is no trend because everyone is just trying to figure it out. Our plans are being reviewed weekly and monthly, not quarterly. We're moving faster and developing plans that are flexible versus static over a period of time.
AAM: How do you share data with your clients?
Gwen Maass: Data is the name of the game right now. Our clients expect us to deliver a plan that has data to back it up. It is embedded in everything we do. AAM's Media Intelligence Center is a great place for us to start to make sure we're getting the best possible data and the media team uses it daily.


AAM: What do you find valuable about audited print data?
Gwen Maass: When we choose newspapers for a plan, there is a hierarchy. Audited paid circulation is at the top and those that fall outside of the hierarchy frequently don't get chosen.