Anyone can post an article on the internet and make it look like real news. Without vetting the source, it can be challenging to separate quality media from websites that spread misinformation and false content.
The Journalism Trust Initiative (JTI) was developed by Reporters Without Borders to give media outlets a tool to stand out for their commitment to ethical, transparent journalism.
In a recent E&P Reports vodcast hosted by Mike Blinder, publisher of Editor & Publisher, JTI's Beth Potter, Ph.D., shared program benefits and steps for publishers to become JTI Certified. They were joined by Paul Samyn, editor of the Winnipeg Free Press, a company that has achieved JTI Certification, and Kevin Rehberg, vice president of client development for AAM, an official certifier of the JTI Standard. Here are some highlights from the conversation.
Separating Misinformation from Quality Journalism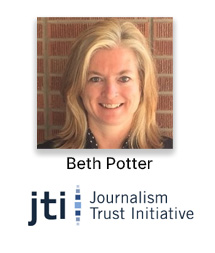 The discussion began with an overview of how widespread misinformation has become and the challenges readers and advertisers face trying to separate real content from fake news. Legitimate news sources end up competing with these sources for readers' attention and advertising revenue.
"So many of the local news websites across the country are going out of business because of social media and everything we see online," said Potter. "It's really important to be able to distinguish between trusted news and misinformation."
Potter added that JTI was developed to give legitimate media a way to demonstrate their commitment to best practices and industry standards, something that sets them apart from lesser quality content creators.
"(Journalists) have conflict of interest policies, a code of ethics that says, 'do no harm,'" Potter said. "We have corrections policies, so people know that when we do something wrong, we immediately correct it. All these things we do as journalists are huge."
Developing Journalistic Standards
To create the JTI certification program, the industry first needed to develop a set of standards for editorial processes. After a collaborative effort that included more than 120 experts and entities, the JTI Standard was established. To become certified to these standards, media outlets must participate in the following three steps:
Complete a self-assessment
Publish a public Transparency Report on the JTI app
Participate in a third-party audit of the Transparency Report
AAM recently achieved accreditation to become an official certifier for the JTI Standard. The initiative aligns with AAM's continued mission of helping publishers stand out for their commitment to quality and transparency.
"In the digital age, borders don't matter. Anyone can Google something," said Samyn. "They might come across the Winnipeg Free Press and wonder if they can trust it. The accreditation is just one more thing that the public can turn to and say OK, someone's done some background checking and allowed this organization to get this seal."
View the complete vodcast at Editor & Publisher.