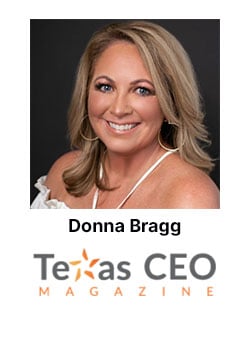 Texas CEO Magazine, a multimedia publisher that provides resources and insights for business leaders, relaunched in early 2020 under new leadership and joined AAM this year. We spoke with Donna Bragg, a longtime broadcast journalist and marketing executive, who recently stepped into the role of publisher and CEO. Donna shares how the brand launched during the pandemic, why she chose her new role and how third-party audits provide greater confidence for advertisers.
AAM: What challenges did Texas CEO Magazine face launching as the pandemic began?
Donna Bragg: It certainly was a difficult time to launch anything. Everyone did an amazing job assembling a team to produce a printed, quality publication under these circumstances. Many of the in-person launch events had to be cancelled. Some content was also changed to reflect how leaders were navigating these new challenges. After a strong beginning and initial challenges, we're ready to take the company to the next level.
AAM: What led you to Texas CEO Magazine?
Donna Bragg: Since I have experience in TV, print and radio, I feel very comfortable in media. The topic of leadership has always fascinated me. My grandfather used to share these quips with me like, "When you meet someone, look them in the eye and call them by their name." I didn't realize it at the time, but his sayings were all about leadership. I'd like to share what I've learned about being a leader, so having the opportunity to lead this magazine is the perfect fit for me at this point in my life.
AAM: Why is it important for Texas CEO Magazine to have an AAM audit?
Donna Bragg: We want to prove to advertisers that our circulation is what we say it is. If an advertiser is going to spend money with a publisher, they need to know they can trust what the publisher is telling them about their distribution. We are audited so we have that stamp of trusted approval.
AAM: How have advertisers responded?
Donna Bragg: If you don't have an audit, advertisers question whether you're trustworthy. Participating in the audit process proves to them that our product is reaching the audience they want to reach. We know internally that what we say is true, but having third-party verification gives advertisers the confidence that someone else has looked at our data and verified that we're actually doing what we say we're doing. Having that trust is so critical.
AAM: Where do you see magazine media in 10 years?
Donna Bragg: As big media continues to consolidate, niche publications like ours will still have a place as long as we continue to reach our audiences where they are and in different ways. That's why we host webinars, podcasts and events, and are active on social media. Even as we reach more people through different formats, I believe there will always be a place for print.
AAM: What's next for Texas CEO Magazine?
Donna Bragg: We are going to continue to host events and podcasts to deliver information to our audience in new and engaging ways. We are also launching a new service to provide customized business publications to our clients by leveraging our strengths in writing about business with a strong business voice. I would love to see our brand become recognized throughout the state as the bold, helpful resource that Texans expect and deserve.