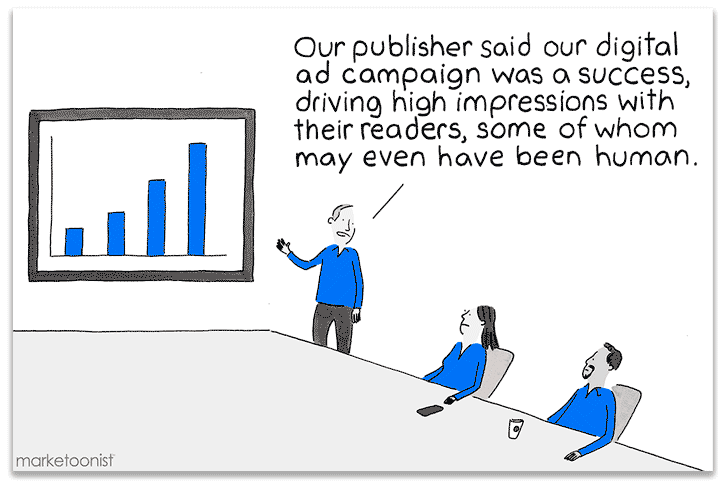 If you buy directly from a publisher, it is likely that you have built a relationship founded on trust and communication. Such relationships are harder to achieve in the programmatic ecosystem where deals are automated and the players can be hard to identify. Even if you are familiar with a seller, you may still be at risk for fraud since publishers can unknowingly invite bots to their websites.
That's why third-party audits are essential to the buying process. They build trust between advertisers, agencies and media and help buyers find partners they can trust. But the term "audit" is often used interchangeably with other types of reviews and can take on a different meaning depending on the purpose and focus of the project.
Marketers might perform campaign audits to determine which media channels offer the greatest ROI or social media audits to evaluate social campaign performance. There is, however, a type of audit that requires minimal work from the marketer's side but is critical for marketers to understand – a publisher audit. Here we explain what a publisher audit is, how it works and the benefits media audits provide marketers.
Publisher audits defined
Publisher audits are compliance audits, which are conducted by independent, third-party auditors with the goal of determining whether an organization is adhering to a specific set of standards or guidelines.
The Alliance for Audited Media specializes in a type of compliance audit developed to verify media and help marketers make more informed buying decisions. Digital publisher audits determine whether the traffic to a publisher's website is valid and that the publisher has taken steps to minimize ad fraud risk and protect marketers' investments. Marketers can prioritize audited publishers in direct buys or through programmatic channels through inclusion lists.
Similarly, media buyers placing ads in print publications use audited circulation data to evaluate the reach of a publisher's advertising product within a market. Buyers gain confidence that the reported numbers are accurate and trustworthy because the data have been verified by a third party and analyzed against industry standards.
How a publisher audit works
Whether the channel being audited is digital or print, all publisher audits include the following components:
Initial Evaluation. Each audit starts with an initial system evaluation and pre-audit assessment where auditors gain an understanding of the publisher's ad delivery system to assess the system's risk and the scope of the audit. This process determines what standards will be used to guide the audit.
One example is evaluating a publisher's compliance with the terms outlined in the contract made with the buyer. The audit may also assess a publisher's compliance with standards developed by an industry body such as AAM, the Media Rating Council (MRC)or the Interactive Advertising Bureau (IAB). By incorporating industry standards into the audit, the auditor can perform tests against those standards and use them as a guide to develop an independent conclusion.
Established Audit Processes. During the audit, auditors examine documents and information provided by the publisher and conduct tests to ensure the publisher's ad delivery system is providing accurate data. Generally Accepted Auditing Standards (GAAS) are used in financial audits as well as publisher audits, and help to ensure the accuracy, consistency, and verifiability of auditors' actions and reports. An auditor might also be trained and certified by ISACA, which is a professional organization for Certified Information Systems Auditors (CISAs) who are experts at auditing IT and business systems.
Independent, Third-Party Analysis. When the audit is completed, auditors issue a formal report that summarizes their findings. While a publisher may attest that they have complied with industry standards and that their data is accurate, only an audit by an independent third party provides the highest level of assurance by verifying the publisher's claim against industry standards and developing an independent conclusion.
For more Marketoons and insights on how media assurance helps improve marketing ROI, download our e-book, "Media Buying 'Toon' Up: How to Achieve Better Outcomes Through Digital Media Assurance."