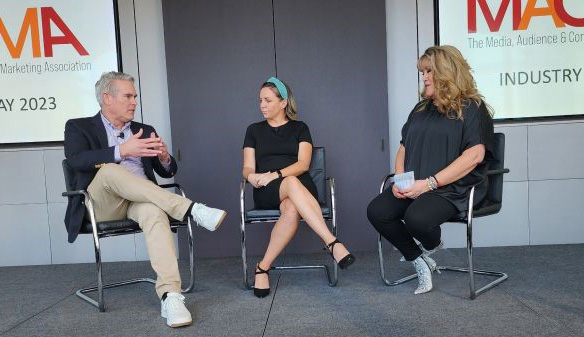 AAM's Rich Murphy and Danielle O'Connell with MACMA President Lisa Pistilli
Last week the Media, Audience & Content Marketing Association (MACMA) held its Industry Day 2023, a one-day event in New York City where professionals from the media, audience and fulfillment industries, and supporting communities came together to discuss the progress, successes and challenges faced by all in the last year.
The session, moderated by MACMA President Lisa Pistilli, was an opportunity to catch up with AAM's Client Development VP Danielle O'Connell and President Rich Murphy for an update on the progress of the merger between AAM and BPA Worldwide. Here are some highlights.
Q: Explain how the merger between AAM and BPA came together.
Rich Murphy: AAM and BPA have talked a few times over the last 20 years, but this time the conditions were just right to get it completed.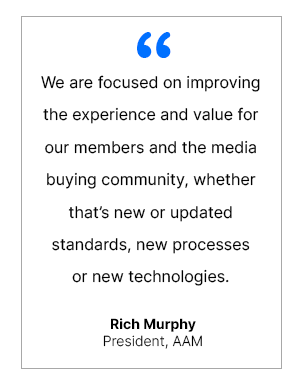 A bit of history. AAM (then ABC) was created first, and it catered to paid publishers. B2B publishers, with mostly non-paid models, did not feel that ABC represented them and created BPA.
Over the years, markets, technology, and services evolved and converged. AAM mimicked BPA in B2B; BPA mimicked AAM in consumer (and newspapers to a lesser extent). Over time the standards and processes of both organizations were more alike than different, and both organizations pretty much kept their core member base. When we looked at the two memberships last year, we found that we complemented each other more than we competed.
AAM and BPA have strong news, magazine and B2B media audit services, as well as substantial business in digital media, ad tech, point of care, sustainability and more.
The main driver was to combine our strengths and resources to better meet the needs of the membership — and the media ecosystem at large. As Chris Ferrell said at BIMS a couple of months ago, "you need scale to service this industry."
Our boards and our members agreed. We received unanimous support from both boards and 98-99% approval from our members.
We are focused on improving the experience and value for our members and the media buying community, whether that's new or updated standards, new processes or new technologies. We are committed to developing new products and services in new markets, while continuing to accommodate existing members/clients. We are also focused on building awareness and demand for audited, validated and verified media.
Q: What does the combined organization member profile look like now?
Danielle O'Connell: Together we have over 2,000 members and clients. I say "members and clients" because our expertise in media auditing has led us to becoming the auditor of choice for other industry associations, such as the IAB, TAG, POCMA and others.
We are the premier auditor of news, consumer and business media, but we also provide audit services for: digital television, social media platforms, podcast platforms, demand-side platforms, supply-side platforms, digital exchanges, digital fraud solutions, anti-piracy solutions, digital-out-of-home, point of care, data solutions, telehealth, digital audio and more.
Q: You are now 45 days in on the merger – how is it going?
RM: So far, so good. Teams are connecting, evaluating standards, evaluating reporting/data solutions, learning about each company's product offerings and opportunities. It is a work in progress.
Q: What does the merger mean for current AAM and BPA members?
DO: No changes in the near term. Our audit leadership teams are busy evaluating the standards, policies, processes and reporting of both organizations to identify common ground and variances.
If we identify differences in standards, reporting or data, we will consult with our member working groups/committees to decide on the best solutions. If a change is necessary, there will be ample time to implement the changes for a smooth transition.
Q: What is the plan for branding?
RM: No change in branding for now. We are conducting research: internally with staff, board directors, publishers, media buyers. Both are quality brands with high industry recognition. We want to make sure we get this right, so stay tuned.
Q: Can you share some of the new products, services, initiatives you are working on?
RM: Again, it's early days. For our news, consumer and business media clients, we are working on streamlining the audit process and using BI products to make the process more efficient and effective.
We are exploring how we can better help advertisers and agencies identify brand-safe inclusion and exclusion lists.
We are looking at expanding the AAM Digital Publisher Audit to the combined membership.
We partnered with Journalism Trust Initiative (JTI) to elevate the level of trust and confidence in media.
We also partnered with Ad Fontes to report on media bias and reliability.
We are refining our privacy offering to meet the needs of our publisher members.
Sustainability in media is gaining momentum. We are evaluating what solutions we can provide our members and broader media ecosystem, but we believe there is an opportunity in this space.
And we continue to press forward on the digital front, providing independent verification (and counsel) for digital ad delivery and measurement in desktop, display, mobile web, mobile app, CTV, OTT, digital-out-of-home, point of care and more!