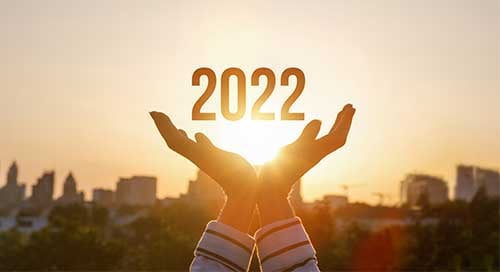 2021 was a year that started with a lot of optimism but ended in a renewed focus on the COVID-19 pandemic. As we start 2022, we asked leaders from industry associations in the U.S. and Canada to share what they thought would happen during the third year of a global pandemic, how disruptions in the workforce will continue to impact businesses and what we should look forward to. Here is who we interviewed.
In part two of this three-part series, we asked what each organization was excited about in 2022. You can also read parts one and three on our website.
AAM: What should the media industry look forward to in 2022?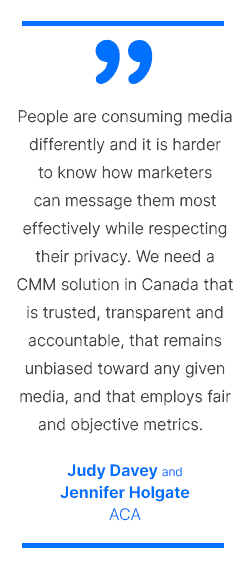 Sonia Carreno, IAB Canada: 2022 holds great promise for digital media on several fronts. We are getting closer to finding cross-media measurement solutions that can help advertisers make smarter media investments. As adoption of important technical solutions continues to grow, we can look forward to further reduction in fraudulent activity and as a result, greater value. The industry can also look forward to continued efforts in developing brand safe environments as well as enhanced technology to help verify media transactions with greater accountability.
We also anticipate major developments in international policy. A global approach to privacy such as the Global Privacy Platform in development by IAB Tech Lab, will help standardize best practices and provide assurances to regulators, as well as citizens across multiple jurisdictions, that the advertising industry is safe and appropriately regulated.
Judy Davey and Jennifer Holgate, ACA: In 2020, the World Federation of Advertisers (WFA) unveiled an advertiser-centric framework for cross-media measurement (CMM) designed to give advertisers a much greater understanding of the reach and frequency of their advertising efforts. Developed in partnership with digital platforms, it is now being tested by ISBA in the UK and the ANA in the U.S. With our ambition to be a "fast follower" the ACA formed a CMM Committee to address the needs of advertisers through a standardized approach to unified cross-media measurement in Canada, maximizing learnings from other markets.
People are consuming media differently and it is harder to know how marketers can message them most effectively while respecting their privacy. We need a CMM solution in Canada that is trusted, transparent and accountable, that remains unbiased toward any given media, and that employs fair and objective metrics. The ad industry should look forward to updates from ACA throughout 2022 on the progress of this initiative.
Nicole Divinagracia, PoC3: A focus on education from the PoC3. There is a gap in awareness and education for POC media that we want to close. We're developing resources to ensure the industry understands the value of utilizing this channel to reach patients and HCPs. We'll have more announcements in 2022 so please sign up for our newsletter to stay informed on our progress.
Brigitte Schmidt Gwyn, MPA: Media continues to innovate in a lot of exciting ways. In 2022, we will see more media companies offering customers content that includes experiences, through VR and other immersive technologies, or learning opportunities, such as through online classes. One positive to the pandemic has been putting into perspective what really matters: family, friends, connection (banana bread). Magazine media will reflect this perspective in 2022 and continue to be laser focused on building trusted, long-term relationships with our readers. We will continue to grow our audience, on our own sites and social media outlets.
Nancy Lane, LMA: Journalism funded by philanthropy is surging. There are newsrooms — both large and small — that now have one third or more of their staff funded by philanthropy. This should be a top priority in 2022 and beyond.
Lou Paskalis, MMA Global: I think the panacea about the Metaverse, a more than two-decade old construct largely rejuvenated by a name change by a platform seeking to rehabilitate its reputation, is unavoidable. Our APAC division already published a guide for markets on how to navigate the space to their advantage ("The Metaverse Is The Medium") for those marketers eager to jump in with both feet.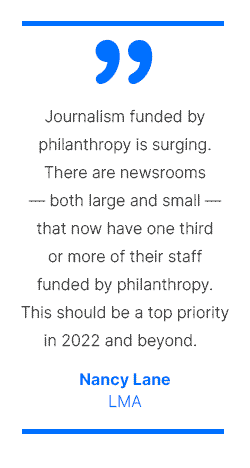 The advance of real-time orchestration solutions, with underlying machine learning technology, will accelerate as marketers continue to increase their demand for "best" prospects in the addressable universe coming off an already white-hot 22% increase in advertising investments in 2021.
Lastly, there's no question that marketers will to need to double down on deriving more business value from their own first-party data which is often disaggregated, siloed and viewed as a liability more than a strategic asset. There are a lot of new solution providers emerging to help marketers achieve just that. MMA Global has established our newest think tank focused on helping marketers chart their course to more effective data strategy and management. Look for a lot of work that is both scholarly and practical throughout the balance of 2022.
Maria Ravera, GWAA: 2022 will be the year of accelerated digital transformation, where many in the industry will realize the tipping point of more digital than print/digital subscribers. This will bring about additional organizational evolution.
We also foresee that leadership, mentoring and collaboration will become more important as more of us continue to work remotely.
Dean Ridings, America's Newspapers: Better than 2020, and most likely better than 2021, but marginally. On the positive side, members of America's Newspapers enjoyed meeting in person in October and we are planning several additional in-person conferences for 2022, including the return of the Mega-Conference in April. These in-person gatherings have been greatly missed and our members have told us they are looking forward to more opportunities to meet and discuss industry concerns in 2022.
This is the second part of a three-part series featuring leaders from nine industry associations and their predictions for 2022. You can read parts one and three on our website.