At its recent July meeting, the AAM board of directors was joined by two new members: Gwen Maass from Quad, representing U.S. advertising agencies and Greg Bilyk from Sears Authorized Hometown Stores, LLC, representing U.S. advertisers. Read on to learn more about the experiences Bilyk and Maass bring to the AAM board.
Greg Bilyk, Senior Manager, Marketing & Finance, Sears Authorized Hometown Stores, LLC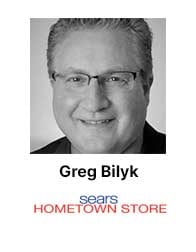 Greg Bilyk joined Sears Authorized Hometown Stores in 2015, bringing a unique combination of financial and media services experiences to the brand. In this hybrid role, Bilyk is responsible for budgeting, financial modeling, and other financial services and also the organization's national circular program, market evaluation, and other media services including managing Sears Authorized Hometown Stores' agency, NSA Media and Digital Marketing Partners. The national insert program for the Sears Authorized Hometown Stores brand supports the largely independent rural store owners. Prior to joining Sears Hometown, Bilyk held a similar financial/media position at Office Depot and held positions with TRW, United Wireless and GTE Mobilenet.
He is a graduate of The Ohio State University with a degree in accounting and finance and has previously served as a board member for Cleveland Heights Ohio Youth Hockey.
Gwen Maass, Vice President, Media Services, Quad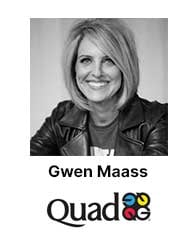 Gwen Maass joined Quad in May 2019, bringing over 25 years of experience in media. She advanced her career at Novus Media LLC, and spent nine years of her tenure as chief marketing officer as an integral member of the Executive Operating Committee deeply involved in evaluating, setting and implementing the strategic vision for the agency. Today, she is responsible for the growth and evolution of Quad's integrated media offering, leading a team of media professionals servicing nearly 100 clients. As an executive within Quad Agency Solutions, Maass is ensuring that the value proposition is aligned and advancing with client needs and expectations.
She is a past honoree of Minneapolis-St. Paul Business Journal's 40 Under 40. She has a bachelor's in marketing from the University of Wisconsin-Eau Claire and completed additional education at the University of Minnesota's Carlson School of Management, as well as through Omnicom University, a leadership program for agency executives in conjunction with Babson College and Harvard Business School.