AAM is proud to name two longtime media, marketing and client solutions professionals to senior leadership roles. Kristina Meinig and Danielle O'Connell are both working to build awareness and relationships in growing areas of AAM, including digital and point-of-care media.
Kristina Meinig, Vice President, Market Development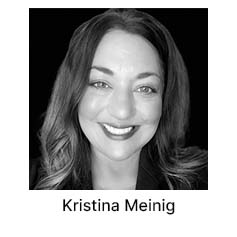 AAM recently promoted Kristina Meinig to vice president of market development. In her new role, Meinig will leverage a strong background in product development, client relations and digital media to bring greater awareness to AAM's digital assurance solutions.
With more than 20 years of experience in sales and marketing, Meinig has held various roles at AAM, most recently contributing to AAM's product leadership team with a focus on digital media solutions and strategy. She helped develop and launch the AAM Digital Publisher Audit, an assurance solution that helps quality digital publishers stand out for their adherence to industry standards and best practices. She also led initiatives to increase media transparency in the industry such as AAM's partnership with JournalList's Trust.txt program, including audited digital publishers in the IAB Tech Lab Compliance Registry and helping AAM achieve accreditation to become the first U.S. certifier for the Journalism Trust Initiative.
Throughout her career, Meinig has excelled at bringing together all sides of the industry to develop solutions that elevate transparency and foster trust between publishers and buyers.
"As an independent voice in the industry, AAM connects advertisers, publishers and agencies to create innovative solutions that benefit all sides of the industry," Meinig said. "I look forward to building partnerships with AAM's board members and clients that support our shared mission, which is to strengthen trust between buyers and sellers and improve how the digital marketplace functions."
Based in the Chicago area, Meinig also enjoys traveling, running and volunteering.
Danielle O'Connell, Vice President, Client Development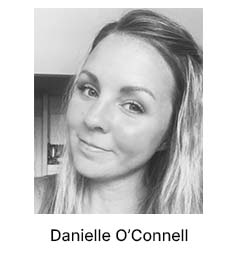 Danielle O'Connell joins AAM as vice president of client solutions where she oversees magazine media, B2B/farm media and the growing point-of-care media channel, as well as working with AAM's agency partners. She is working alongside industry veteran George Bartman before he retires at the end of the year.
O'Connell brings a strong foundation working in magazines, media and marketing to her role. She began her career at Waiting Room Subscription Services (WRSS), a public place distribution company, where she spent several years as a marketing manager before becoming a consumer marketing manager at Martha Stewart Living. O'Connell joined AAM in 2015 as a sales and client solutions manager, eventually becoming AAM's director of sales before joining National Review as director of circulation and programs.
Her vast experience working in media gives her significant insight on the needs and challenges publishers face. One of her goals is to help AAM clients learn about changes in the industry and introduce them to programs and partnerships that help them gain greater exposure for their quality work in print, digital and out-of-home media.
"I am deeply familiar with the industry and AAM's clients. I understand their roles and how vital it is for them to retain advertisers and subscribers," O'Connell said. "I look forward to helping strengthen the relationships they have with their partners and find ways to leverage AAM's tools and programs to expand their brand footprints and showcase the good work they do."
Based in New York, O'Connell is a self-proclaimed Broadway theater nerd and diehard Yankees fan.
To learn more about AAM's team, visit our leadership page.