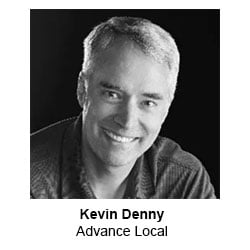 Advance Local is a leading digital media and marketing group, reaching more than 50 million people throughout the U.S. across multiple platforms, including 24 news media properties. Kevin Denny, Advance Local's vice president of consumer revenue, recently joined the AAM board of directors. Denny spoke to us about Brand View, news media auditing changes, digital audits and the role of the AAM.
AAM: Tell our clients a little bit about yourself and your role at Advance.
Kevin Denny: I have been with Advance for 25 years. I started in Oregon as manager of circulation sales, then vice president of circulation, general manager for The Oregonian and later took on a similar role for our southeast region (Alabama, Louisiana and Oregon). For the past five years, I have led the enterprise consumer revenue and circulation operations teams where we manage all print consumer revenue activities and distribution across all Advance local markets.
AAM: What's something Advance Local is doing right now that makes you proud?
Kevin Denny: Like other publishers, we are navigating the transition from printed newspapers to digital news platforms. Print is a vital resource for many of our readers and advertisers, and at the same time, we're introducing them to our digital products. I am most proud of our team's ability to understand the future of our business without sacrificing what our most loyal customers rely on: local news that matters.


AAM: How did you get involved with AAM and come to join the board of directors?
Kevin Denny: I have always been engaged with the work AAM does to support our business. One of my greatest interests, and the catalyst for joining the AAM board, is ensuring that AAM is an essential, efficient and cost-effective solution for publishers as our businesses change.
AAM: What are your thoughts on AAM's new Digital Publisher Audit?
Kevin Denny: I don't think there's a full appreciation of the value digital audits bring to a publisher. As advertisers start to demand greater accountability from publishers, we need to be aware and make sure we're doing our best to limit nonhuman traffic. I'm just not sure enough local media publishers understand the impact of digital ad fraud yet.
Get to Know Kevin:
What are your favorite news sources?
My local news go-to is the Birmingham News and AL.com. For national news I rely on USA TODAY, FOX News and regularly turn to Apple News.
Favorite vacation destination?
Northern Montana
Best band/music artist of all time?
Anything 80's rock and country music
Favorite way to pass the time in a pandemic?
Making a nice dine-in meal with my wife, Tammy.
AAM: Advance Local was an early and enthusiastic adopter of AAM's Brand View. Your media brands receive 86% more traffic to your AAM data than those with just traditional data. Why do you use Brand View?
Kevin Denny: It's a great marketing vehicle for us. Our sales folks asked us to participate because they wanted to have a space where all this data is captured in one spot. Brand View brings together all our brands — print and digital — and provides a clear picture of how our products are distributed and consumed. Clearly, advertisers are seeking this information.
AAM: You talked earlier about auditing efficiencies. AAM recently implemented a series of rule and reporting changes to simplify the news media audit. What was your response??
Kevin Denny: We definitely see efficiencies and will continue to see more. As all of us are operating with fewer resources. Streamlining the AAM audit and reporting processes is a necessity. Audits are spread out over the year, rather than happening all at once. As a company with multiple titles, this allows us to balance our resources efficiently to manage audit requests.
The open accessibility to nonpaid audits is also very beneficial. Before, our team had to spend quite a bit of time to get homeowners to sign affidavits saying they got the product if auditors did not see 85% or more of the audited addresses. Now the audit is done remotely, and not having to chase down those affidavits for nonpaid audits is a significant time saver.
AAM: How has Advance adjusted to COVID-19?
Kevin Denny: Back in April, we fully launched our digital strategy and a digital subscription model. It had been in the works, but we took advantage of the timing and introduced a paid digital service that sold more than 50,000 subscriptions in less than eight months and continues to grow.